A wooden pallet storage bed is not only fore owners of small apartments benefits to have a multi-functional bed in the bedroom. By using the empty space under the bed, you not only save space in the room, but also keep order. Check out our ideas to help you make your choice.
See the drawers in the above wooden pallet base of this bed. They make it a convenient place for you store things that should always be nearby. And also notice that the stylish bed has not only the convenient drawers but also open storage compartments. There you can arrange a mini-library of books you are going to reread, store chargers and other small things.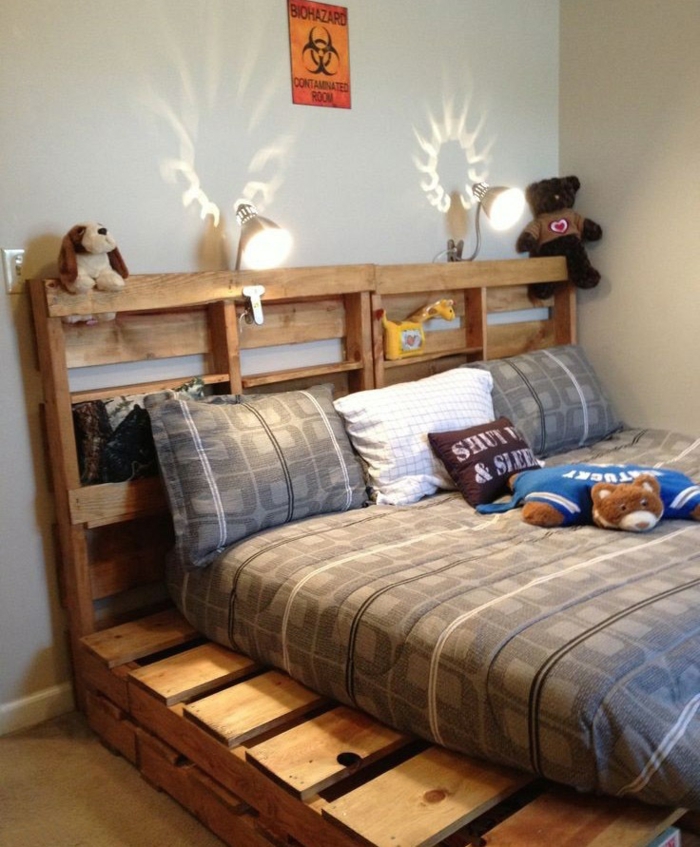 To have a "cozy" bedroom, then your best bet to create a clutter-free space is getting creative with your storage. By maximizing the space under your bed with a storage container, drawers and storage compartments as need be.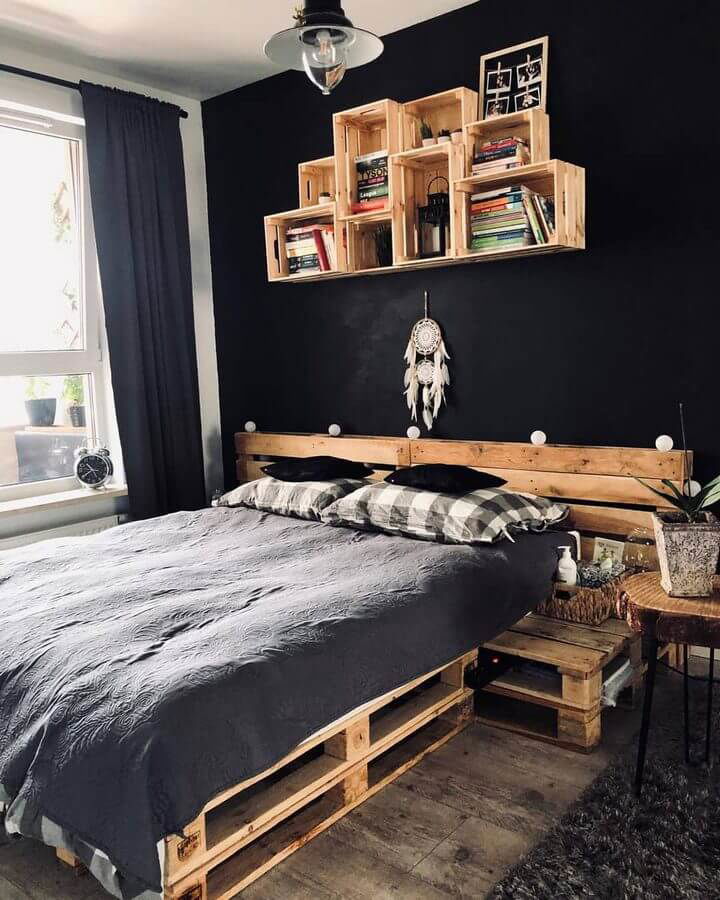 With this simple trick you will transforms an otherwise useless space into a fully functional storage area for storing out-of-season clothing and extra bedding. Or that pile of stuff you just can't bring yourself to part with.
Such a bed serves as a sleeping place and replaces wardrobes and dressers. And this is important, since a certain space is freed up that can be used rationally. A bed with linen drawers is both functional furniture and a place to relax. Using a bunk bed offers an even greater advantage, freeing up additional space and square footage.
Which is which: a bed with drawers or a lifting mechanism?
There are two main models on the wooden pallet storage bed- with drawers and a lifting mechanism. Each option has its own pros and cons, which should be considered before purchasing.
Bed with drawers
The presence of drawers does not affect the size of the wooden pallet storage bed frame.
Because the pull-out elements are placed under its base, filling the natural void. And location of the drawer boxes, as well as their number, depends on the size of the furniture – high beds, sometimes, have a whole mini-chest of drawers under the bottom.
The fastening of the pull-out elements can also be different – the drawers can move along the guides, roll out on rollers and even just stand on the floor.
Benefits of beds with boxes :
spaciousness;
neat sorting of different things into different boxes;
simple and convenient use, accessible even to children;
compartments can be used without disturbing the sleeper
easy repair or replacement of the box.
Disadvantages:
you need an empty space in front of the bed for full use (for example, a double model with side drawers on both sides cannot be placed under the wall);
for roller options, you will need an even floor covering, preferably without a fluffy carpet;
compartments are designed for small items.
These beds are ideal if you have room to "maneuver" (note that pull-out compartments can be either side or end for optimal furniture placement). The bed boxes are easy to ventilate and clean, they are durable and easy to use.
Bed with a lifting mechanism
This wooden pallet storage bed has a built-in linen niche – also under the bed base / slats.
The dimensions of the niche correspond to the dimensions of the bed, and in order to gain access to it, it will be necessary to raise the main part along with the mattress and the rest of the bedding. Depending on the model, the lift can be vertical (from the end) and horizontal (from the side).
Special wear-resistant shock absorbers help to facilitate the task – it is them that take on the weight of the lifting block, while not requiring much effort on the part of the user. Gas models are quiet and have a long service life. Spring products are cheaper, but fail faster with frequent use. There are also budget mechanisms with hinges – here you will have to lift the block only on your own.
Advantages of a bed with a lifting mechanism:
oversized linen box that can accommodate large enough items;
simple use;
requires a minimum of space next to the bed to use.
Disadvantages:
a single linen block for different things – organizers will be needed for sorting;
with all the convenience of use, the lifts are not suitable for everyone, but especially for children;
it will not work to get to the block without disturbing the sleeping person.
Drawers "push" things towards the user, and in a solid box behind them you will have to tilt yourself, which is noticeable when filling the far corners. This can be uncomfortable for people with back pain.
How should be a bed frame with storage?
The most comfortable wooden pallet storage bed is considered to be a bed not on legs. But installed directly on the floor. Thus, the amount of open voids under the furniture is minimized. And this avoids dust accumulation and makes cleaning easier. The one-piece frame can be used for both lifting mechanisms and drawers.
At the same time, do not forget about the need to ventilate the sleeping place. From time to time you need to open linen niches, take out drawers, put a mattress, blanket, pillows on air. In rooms with high humidity, it is better to use legs on legs – the natural movement of air will prevent the formation of mold.
Consider all the advantages and disadvantages of beds with drawers or a lifting mechanism and choose the best model for you. Do so taking into account your requirements and features of the room layout. A large selection of modern products – for adults, teenagers or children – can be customized or made to measure.
Wooden pallet bed headboard with storage compartment
Here we have a list of very practical pieces that you are going to love each of the headboard with a compartment so you can see what best suits your needs.
Headboard with recommended storage
When we talk about the headboard with storage, we are redefining the use. And therefore we are extending ourselves beyond the definition of the headboard itself.
If what we are interested in is a headboard with compartments, it is because we want to generate a more practical use for our bed. And that is in addition to the mere fact of sleeping, and it is that it serves as a closet space.
Under this premise, we are going to recommend a piece that makes up a complete bed and we could say that it is almost a complete wardrobe as well.