The wooden pallet garden sofa trend
Indeed the wooden pallet garden sofa is one of the most sought after garden furniture in recent times.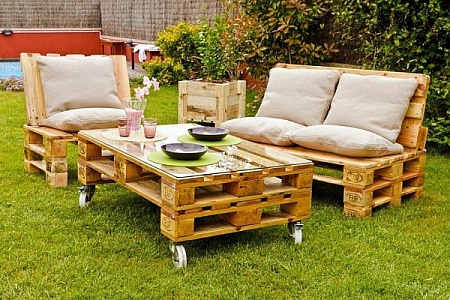 The question is, why the tremendous popularity of the wooden pallet garden sofa? And the answer is precise and interesting.
You well know we live in the world of progress and plastics, that cause a lot of health and environmental degradation. But the topic of wood pallet garden sofa is one of environmental friendliness. Because the purity of materials that make up our life and the objects around us is becoming very popular.
We offer truly original wood pallet outdoor furniture. And all our outdoor pallet furniture we make by hand and only from precious hardwood pallets.  We do not use conifers, but we create our outdoor items only from hard wood pallets. It is noteworthy that not a single item is repeated here. And that all our furniture is original and exclusive, only handmade.
Choose to save money with wooden pallet sofa
And even though a wooden pallet garden is low priced, we do not have to use pallets only. You can also make your furniture from planed wood with the imitation of a pallet pattern. However, it is you to make the choice. Because you can always save money and use recycled pallets.
On the other hand you can use planed wood from elm, ash, oak, mahogany and other hardwoods. In our store you will find wonderful interior and outdoor furniture solutions. And they will be, just like a hundred years ago, environmentally friendly, beautiful and original.
Uniqueness and purity of wood pallet garden sofa
We chose this path for a reason, relying on uniqueness, originality and purity.
Because the beauty that surrounds you, be it people or things, makes you better, giving giving you joy. In our store you will find all these, our wooden pallet garden sofa will give pleasant warmth to you and your next generations. As our outdoor wooden furniture designed for a very long service life.
And if you have any interesting ideas, sketches or projects, we will help you bring them to life. All our outdoor furniture bespoke and artistic in nature. Because each piece has unusual elements and personalized dimensions or sizes. We work only with wood as the base material. And therefore everything we do is a one-off product and you will not find repetitions anywhere.
Professional Association
Our store, a member of the Association of Designers in Kenya (ADKe), guarantees the highest quality and a long service life of our products. The furniture we produce is original and unique, it is suitable both for a country houses and an apartments, for a hunting-style house or just a summer cottage. No matter what you are looking for, you will find it for your interior or garden with us.
We create pallet garden chairs, garden armchairs and garden tables.  Such outdoor furniture will harmoniously fit into almost any setting. Everything we do is a work of product design and craftmanship, unique and one of a kind.
Advantages of wooden pallet sofa:
A garden sofa made of wooden pallet is light weight and yet strong. Impressive weight. On average, one pallet weighs at least 20 kg, which ensures the stability of the finished structure.
Durability. The pallets are designed for the transportation of goods measured in tons. For their production, durable and properly dried wood is used, which is completely free of rotten areas or other significant flaws.
Standard dimensions. Pallets come in two sizes: 1200 x 1000 mm and 1200 x 800 mm. Even without pallets in stock, you can already draw a drawing of future furniture, knowing the dimensions of the raw materials.
Resistant to atmospheric precipitation. Thanks to a special antiseptic impregnation, pallets can be safely left outside during rain or snow. They will not lose their original appearance.
Easy to care for. You can rinse the pallets with a hose or wash them with a sponge without using abrasive cleaning agents. This is enough to knock down street dust.
Easy assembly / disassembly. If the landscape design of your site has changed, the furniture can be easily disassembled and moved to another place.
We have listed the main advantages of pallet furniture, but their main advantage is still the price.