A wood pallet office desk can be practical and aesthetic at the same time, any where and everywhere. Be it in a small and open-plan office, in workshops and warehouses, in schools and universities, or even in your own home.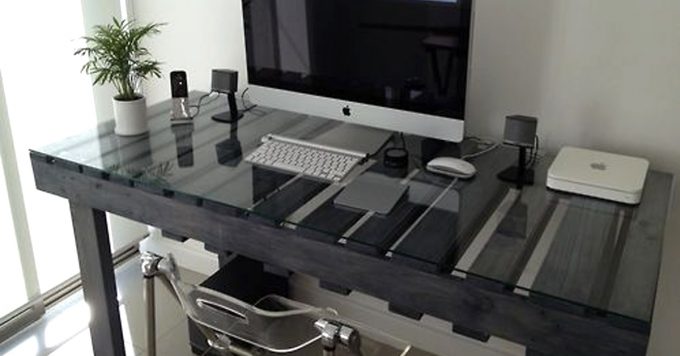 The natural pallet office desk impresses with its extraordinary pallet wood grains when completely sanded. The so-called "scarfing" changes the wood surface into a quaint and rustic shabby design. And the wood remains intact and does not lose its strength.
This technology creates an absolute designer office desk with a unique wood grain and the naturalness of the wood remains.
Massiveness, functionality, elegance and rusticity meet in wood solid office desks work as a stylish piece of furniture in the office. And also in the study, reception room, workshop or studio.
You can style your custom made pallet desk for use in business, as well as in private, to do paperwork on the work surface. Or to work on the computer or to play games, to do homework as well as to conduct telephone and interviews. But also, due customization sizes, colors and designs, they also enhance every room in an individual way.
The pallet desk or filing table looks particularly airy due to the large open shelves on the left side and the two continuous shelves below the worktop and thus has enough storage space for files, books, pads and pens.
So not only is work fun, but the office space is filled with elegant design, warmth and a harmonious overall impression. This is what wood pallet furniture stands for – rustic extravagance and flair.
Custom make your pallet office desk finishing
As a lay person, to make your wood pallet office desk you must go to some retailer to find the proposal that best suits your needs. But because of being personal, you may require options that are difficult to find.
The construction of office desks with pallets is very varied. And you can make many elements with very attractive designs.
Custom made pallet office desks have a very simple preparation can be cheap. But they are very nice and have a spectacular resistance. And resistance is one of the characteristics that has the most value in an office desk. Because it has to withstand a lot of use. The best thing is that you can make office desks with pallets to measure depending on the space and the purpose you have.
To start with, the pallets have to be cut based on the desk design. And you can even separate the boards from the pallet to start the structure from scratch.
Once the design is well attached and resistant, you just have to give it the desired finish. A rustic style only requires a clear varnish. But you can paint or add accessories to make a more complex wooden desk. And it is also important to use specific finishing products that are resistant so that they last even longer and look best.
A pallet office desk needs a chair and other accompaniments
If you are looking for a for an office desk made of pallet wood, then you also need a chair to match. Or maybe looking also for storage units in which to store documents, photographs or office furniture. If that is the case, our carpentry shop offers you custom-made designs practical and functional solutions.
Almost always, together with desks and writing tables, we have been asked for furniture, drawers and filing cabinets.  These are just some examples of furniture and furnishings for the study or office that we make.
We also produce entire custom-made furnishings for the business world and for home as well. And not only in pallet wood but also from solid wood, glass, and metal. Because the materials that make up the desk can be varied. And we often use the different materials at same time to create a unique work table with a sophisticated design.
The choice of wood for office desk may seem obvious. And it is often synonymous with classic and retro style that seems not suitable for furnishing the most modern offices. But in reality, a wooden desk is always a must. And it is possible to transform this support into a support characterized by functionality and innovation at the same time.
Solid wood office desk
Today, furniture made of natural materials such as pallet wood and solid wood is especially valuable.
Although synthetic materials are cheaper than wood and are often used in modern production. These wooden furniture have a number of significant advantages that make them the most relevant and popular.
There are many reasons in favor of solid wood furniture. But let us address the main ones. Without the slightest doubt solid wood is beautiful, it is alive and it is durable. If you value quality and want to build a nest in which you can live permanently and be happy instinctively reach for solid wood furniture. You can see and feel the difference!
Whether you have a room dedicated to your office or you need to set up a workspace in your living room, you will need to equip yourself with an office that fits into the style of your interior. This is why offers you a wide choice of desks: classic or designer wooden desk, computer sideboards or small corner desk, white or architect's desk etc. Practical, all these products are designed so that you are in good working conditions.
With custom made wooden office desk you will be able to choose the size of your desk according to the space you have available. Because the office desk is not a piece of furniture to be taken lightly when you want a perfect decoration.
To blend in with your interior we have selected quality furniture designs for you. Modern and practical desks, timeless or rustic wood, simple and multimedia.