To me the two biggest advantages of a wood pallet garden table and chairs and other pallet furniture are the aesthetics and the low cost. A garden remodeling with pallet furniture is extremely beautiful and does not always have to involve large costs of money. The environment that you can create with pallets is highly original and above all sustainable.
The neutral color of the pallet wood is one of the main characteristics of a pallet garden table furniture. From wood pallet chairs and tables we will tell you that the natural color of wood will make it integrate into any decoration with total ease.
When looking for an outdoor coffee table for the garden or any other type of table there are countless options to choose from. However, there is a different type of outdoor table – pallet tables that will give your garden a special style.
Pallet Tables Are Very Durable
Do not assume that since pallet wood is cheaper, it would not be durable. That is not so. If you compare it to other materials such as plastic, you will find that pallet wood is very durable and requires little maintenance.
Rustic Wood Pallet Garden Table
If you don't want to waste money on heavy furniture expenditures then use a pallet garden table for  adorable garden furniture. Because they are the cheaper, feasible and reachable source of sturdy wood.
Industrial and manufactured tables can be pricey while refurbishing your garden or building newly.  This reclaimed pallet table is just a tremendous piece of furniture and will be a good friend of your lawn. And you can customize your pallet tables to feature sturdy hairpin metal legs. And/ or some opening that will serve as storage units to hold your books, magazines and whatever you want.
Coffee Table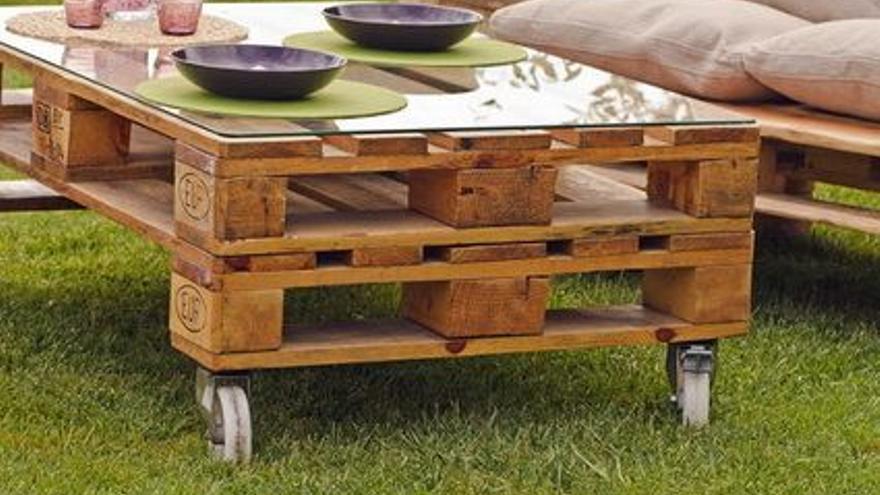 Drink Table
Drink tables are tiny and have just enough room for (you guessed it) a drink! They can be tall but are usually on the shorter side.
Dining Table
Pub Table
Pub tables are tall and come with stools. They usually seat two to four people.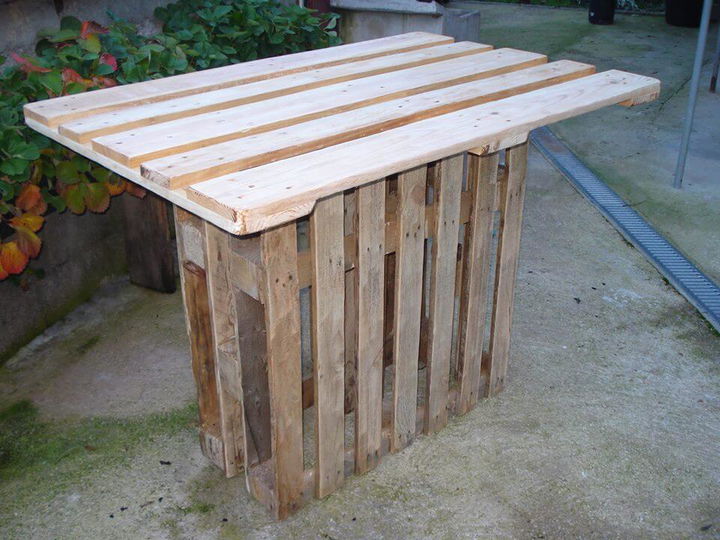 See Different Types of Picnic Tables for more patio tables.
Work Table
Work tables are highly utilitarian (though not necessarily unattractive). And are usually built with a specific job in mind: woodworking, art, gardening, or other.
They come in a very wide variety of sizes and finishes, depending on whether you decide to use them standing up, sitting down, inside, or outside.
Square or Rectangle
Undeniably the most common shape for any kind of table. And you can't go wrong with four sides and four corners! Rectangular garden tables are often better fits for long, narrow spaces. And in you can make them smaller than round tables and yet still cover a lot of ground. Whether you're hosting a holiday meal for a crowd or fitting a work table into an unused lawn, rectangles can fit the bill perfectly.
Most Popular Styles Today
We don't have time here for an exhaustive lecture on the history of furniture. But we can give you a brief overview, so when your friends compliment you on how "mid-century modern" your living room looks now, you can reply intelligently.
Industrial
Industrial design makes use of materials common around the turn-of-the-century. Such as exposed brick, distressed wood in natural stains, and exposed steel or other metal. These can be a really eye-catching design style and even if you live in an apartment and can't reveal exposed beams or put up an exposed brick wall, an industrial table made from metal and pallets can be a great way to add your own personal spin to your home
Japanese table
Custom