Decoration with wood pallet armchair
The trending wood
pallet
armchair is testimony that this year 2021 is the year of sobriety in interior decoration.
No more overloading the rooms with thousands of objects. Because decorating with measure and moderation is the in thing now. And what is the main reason?
From last year nature takes on the prominence it deserves and materials must be respectful with the environment. In other words, recycled if possible or reused, the result of a more responsible furniture consumption. So, do it with the wood pallet armchair. 
And in this way you return to simplicity, basic textures and natural materials like pallet wood. Because it is the quintessential indoor and outdoor furniture that meets these requirements.
Big or small armchair: You can choose the dimensions
You can choose the dimensions of you wood pallet armchair since the manufacture of pallet furniture is done on the basis of pieces.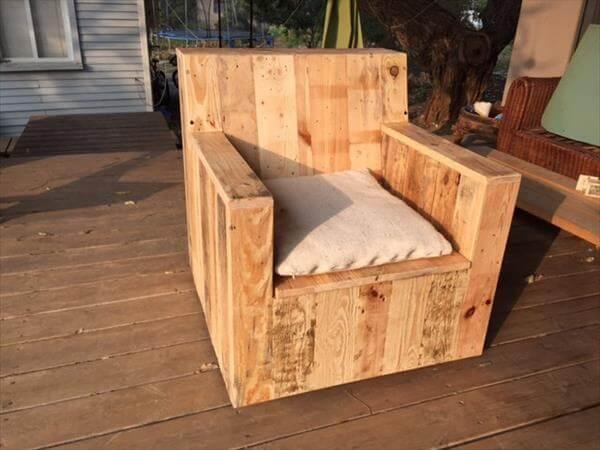 Because you are able to add more or fewer pallets to the furniture. So you can choose the size of your sofa longue, or dining chair. Adding more or less pieces of pallets, so the furniture adapts to the available space. Be these very open spaces where a piece of furniture of great presence fits, or more welcoming where less is more.
Most western armchairs are at least the equivalent of a small loveseat. This may not always be very comfortable for a couple.  Therefore, if you are going to share it or have guests who come as a couple, think of something bigger.
You should also consider the size of the space in which you are going to place it. In this case, a smaller size may be more convenient.
100% customizable appearance
You can order a ready-to-customize wood pallet armchair in a wide range of finishes and colors. Whether you are a handyman or you want a finished product, we have a solution that will suit your needs. The limit is your imagination!
Garden pallet armchair