I beg to start by giving you just a few advantages of Pallet Wood Dining Table (indoor and outdoor). And then I will expound thereafter.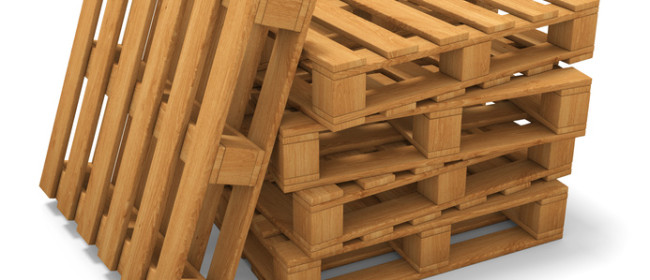 As you know the world of dining tables is huge. And the pallet wood is so versatile as it adapts to almost all styles that you can found in houses and apartments. The pallet wood dining table top may be in glass finish because the surface is modern and easy to clean. Or with a veneered tabletop because such tables are cheap or antique. And of course made of solid wood.
All of these materials have their advantages and disadvantages. Pallet tables are particularly popular because they are so robust and can be integrated into any interior.
Making furniture from recycled pallets is both economical and decorative. Because pallets are very durable and allow for a lot of customization.
When it comes to furnishing a room, buying a dining table set requires a certain budget, but a little creativity saves money. With the use of recycled pallets, every room in the house will be affected and many things are possible.
And here are a few more advantages of pallet wood dining table:
 Large selection of tables and extending tables

  From inexpensive to premium: dining tables in all price ranges

  Numerous shapes and styles: round, square and  rectangular dining tables

  Variety of materials for the table top and frame: wood, glass, ceramics, metal and much more

  Solid wood tables with a unique grain

  Individual planning or custom designs
How to choose your dining table
Round, rectangular, square, oval, fixed or extending pallet wood dining table, which is better for you? Choose your model according to the space you have in your room and the number of people you want to see seated.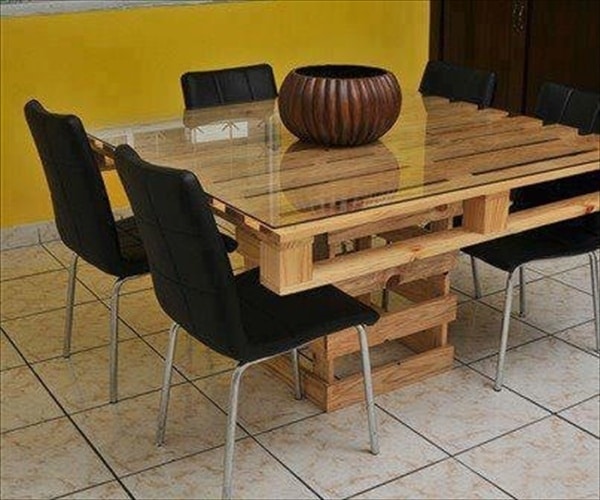 To be able to dialogue with everyone present, the round table is ideal. For two, opt for a diameter of 70 cm. At 4, it will take 1m20, so that everyone feels comfortable.
Do you prefer rectangular models? In this case, select a minimum length of 140 cm for 6 people. With 160 cm, you can accommodate 8 guests. Add 20 more to accommodate 10 people. You still have to have the necessary space at home!
Once you define the shape and dimensions, it remains to choose the style of your pallet wood dining table. Is your interior rather modern? The white lacquered materials and the glass blend harmoniously into a contemporary atmosphere.
But in an interior with an industrial design, clear varnish is more popular than ever. As for the fans of Scandinavian decoration, you will opt for the authenticity and warmth of a wooden pallet table.
Clever solutions for small spaces
For small spaces or for couples, the square table is more suitable. And if you like to regularly invite friends or family, go for an extendable table. Versatile, it is an attractive alternative for small spaces.
And is is practical, as it has a concealed extension, easy to add when entertaining friends.
A round pallet wood dining table also works well in small rooms and smaller square shaped rooms. It creates a cozy and intimate setting, so it's the best shape for a few of people. And on the contrary a large round table can make guests feel very far away from each other.
pallet outdoor dining table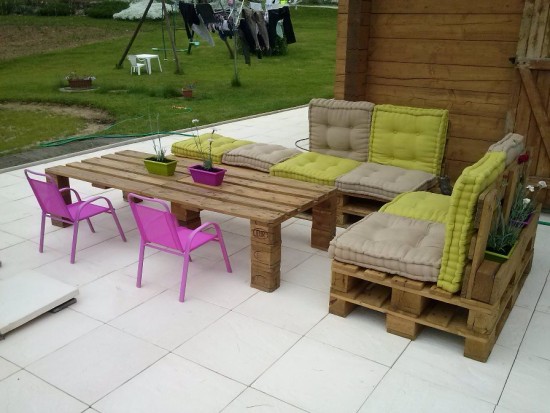 pallet dining table and chairs
Rustic pallet dining table set
For me, rustic style pallet wood dining table is the best and I will tell you why. First of all, the kitchen and dining room are the heart of every family home. The family gathers at the dining room table. And it is where daily life is shared and important events are held. 
The right dining table creates a cozy and comfortable atmosphere and will last for years of conversations, good meals and special moments. 
What does " rustic " mean?
The rustic pallet wood dining table style focuses on making the rooms warm and cozy as well. Rustic dining table design has character and charm that make your dining room feel less like a showroom and more like a dynamic space that is the heart of the home. And that is exactly what makes it my favorite dining table style.
This style is best done by combining old and new to get the right balance of warmth. Farmhouse dining tables, therefore, should always bring a touch of nature and, even better, a rustic feel.
When looking for a dining table for rustic design, always go for real wood and such as pallet wood. But there are even other solid wood options that work well too. Such as pine and elm. And oak is always the best option.