The pallet swing chair is quickly becoming a part of our home furniture. And lots of people in Kenya have started to equip their outdoor and interiors with this beautiful wooden pallet furniture.
Because wooden pallet swing chairs are so comfortable, look stylish and elegant, you can use them indoors too. You will spend some peaceful time on them or can you can read a book at ease. Because they are attractive and relaxing at the same time. 
Although the wooden pallet swing chair has some health benefits, it is also posh. One really good reason for having this recycled wood swing except for the health benefits, is attention. Because the pallet swing looks so stylish and beautiful such that everyone's eyes gets stuck on it. You will surely impress all with it.
It is a furniture piece that has never failed attract everyone. And you will love to sit in the hanging chair because it is most comfortable. On top of that, while being a stunning piece of furniture, you will create a great decoration in your yard.
The pallet hanging chair has evolved a lot. And although it is usually associated with outdoor spaces, such as gardens and terraces, incorporated into the interior decoration, it provides an impressive decorative value. In addition to inviting fun, rest and meditation.
Hanging pallet swing chair is an alternative to a hammock, and you can be installed in any corner. One square meter of floor space will be enough to install a hanging chair on the ceiling and you will have a cozy space in which to read or meditate. Because in addition to being beautiful and eco-friendly (100% natural wood), it adds warmth and naturalness to any space.  Be it exterior or interior.
Health benefits of Swing Chairs
Physical and psychological comfort is by itself therapeutic and the pallet swing chair is a comfortable piece of furniture. It is mostly associated with a teenager's or a child's bedroom, but is also popular with adults. Because the swinging movement can quickly relax the whole body. And also aesthetics are also mind relaxing-swing chairs is are highly aesthetic elements.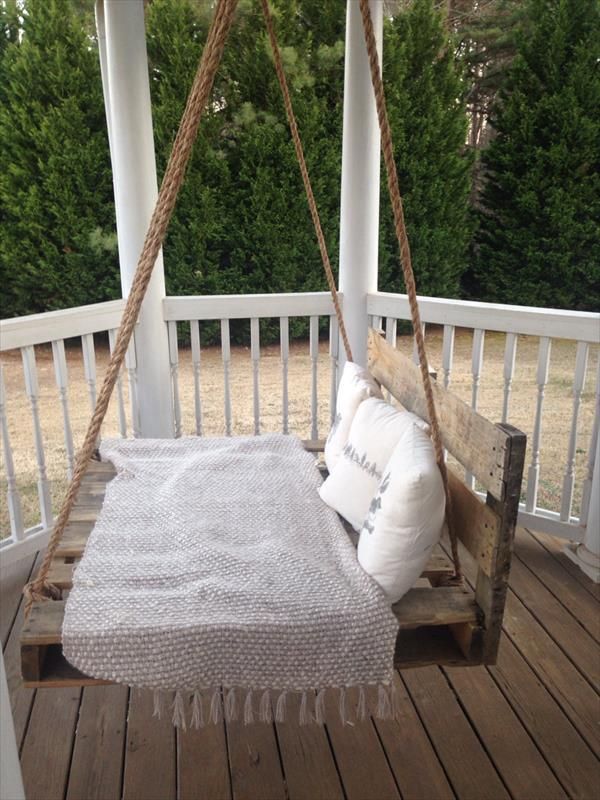 And also suspended chairs prevent contact with the dirty ground and offer protection from snakes, rodents and other poisonous or simply pesky creatures.
A new study conducted by a team of Swiss researchers and published in the June issue of "Current Biology" has offered a scientific explanation for the longstanding global hammock craze. The team found that a swinging motion synchronizes brain waves, allowing people to doze off faster and attain a deeper state of sleep. Their results also support the ancient—and still very much alive—tradition of rocking children to sleep.
How to protect your outdoor pallet swing
As you well know, all the wooden pallet chair swings must be fixed to the ground or hang on posts, tree or ceiling. But outdoor swing users will sometimes use a lot of force. And if the swing is not properly anchored, it could be dangerous to swing. 
We recommend you let us install the swings for you. Because it is very important you assemble the structure and anchor it to the ground professionally. This section explains how we anchor the swings for domestic use. The swings for commercial or public use, that is, those for schools, communities, hotels, campsites and town halls, must be anchored differently.
Some swings are longer than others. And the longer swing, the deeper the hole has to be made and therefore more work. But basically the way to anchor it is the same. You have to screw the metal anchor into the tip of the wooden post, make a hole, sink the anchor into it and fill it with concrete so that it is very well fixed to the ground.
Installation of pallet swing chair on a terrace
If you want to install a swing chair on a terrace or in the basement, a parking lot etc. You have to watch that when screwing, it does not break the asphalt fabric that protects the building from humidity. If that is the case, you would have to mount the swing very carefully. It would be a much more complicated assembly than the others and recommended only for professional assemblers.
Remember that if you place a swing on a hard surface, falling children can hurt themselves quite a bit. Install rubber tiles to solve this problem. The falls should always be on soft ground: rubber tiles, continuous rubber, non-compacted sand and in a private garden grass soil also works.