Different types of pallet indoor sofas
The choice of pallet indoor sofas design is one of the most important decisions when furnishing the room. A sofa must be comfortable, above all. But also fit into the space you have. In which case, pallet sofas are best suited for size customization. And then, obviously, have the right design style so as not to clash with the rest of the interior decoration.
I hope you will agree with me that the sofa is undoubtedly one of the most important pieces of the living room. Because it aids comfort spending a lot of time sitting to watch television, read, sleep, chat with family and friends. For this reason when choosing pallet indoor sofas you must analyze several aspects to find comfortable, durable sofas that meet your personal needs. A difficult task due to the wide variety of models and styles that exist on the market. But this task is simplified by custom made pallet sofas.
With pallet sofas you will achieve custom seats and the in the shape of the space.  Furthermore you will create a seat just for the number of people who will use it. Another crucial factor is comfort. So you will get to choose the density of the sofa cushions and the colors and fabric of the covers.
Below we share a basic classification of the types of sofas that you can make. And we also briefly describe their main characteristics and uses.
L-shaped pallet indoor sofas
This type of sofa has one side longer than the others, usually made up of 3 + 2 seats. It is ideal for large rooms and allows people to talk and socialize with one another. They can also serve as a room divider without the need to add another type of element that acts as a divider, such as a shelf or partition. In this case, it is recommended that the longest side of the sofa is touching the wall to gain space and facilitate passage areas.
Wood Pallet Indoor Chaise Longue Sofas
Today, the chaise longue pallet indoor sofas are seen as luxury items for the modern home. You can use them to complement your home's décor such as living or reading rooms.  Or as a stylish boudoir chair for bedroom seating. Hence its name in French, which literally means "long chair". Because they occupy a large space, we recommend installing them in spacious rooms.

Have you noticed how chaise longue sofas have become the favorite places to relax and enjoy with the family? Also in addition to being able to stretch your legs on, they can serve as an extra bed for a guest. In short, it is a design that allows you to maximize comfort and give a modern touch to the space.
Pallet indoor Corner Sofas
Corner sofas are similar to the L-shaped sofa but in this case both sides have the same extension. They are ideal for large families and to share moments with large groups of friends. And they have the advantage that they adapt to any corner so they can also be used in small rooms.
Modular sofas
Pallet indoor sofas modular design are sofas divided into pieces that can be put on or off when necessary. Therefore the pieces are able to accommodate the sofa in different ways. And you can even separate the parts according to your needs. The blocks that form them can have arms and backs or not depending on how they are placed. These modules can also serve as footrest or table. And can integrate comfortable poufs or removable cubes that add even more comfort and functionality.
It does not matter if your living room is large or small, the modular pallet indoor sofas adapt to any space. If you are looking for functionality and customization of the space, this is the sofa you are looking for.
Pallet Armchairs
They are usually used to gain an extra seat, complementing another larger sofa; or to take better advantage of a corner of the room. Also they are ideal to place in rooms, creating a personal corner where we can relax. Or take a nap, sew, enjoy reading in front of a window, etc.
Chesterfield sofas
It is a classic sofa with curved arms and low backrest at the same height. And they are comfortably upholstered with a continuous tuft. In other words, padded upholstery with a series of buttons distributed in a geometric shapes. This at the beginning of the 19th century served to set the mood in English living rooms.
Nowadays these mythical sofas adapt to any style giving it a sophisticated and elegant touch. Although it is more in line with more classic or vintage decorative styles. Originally it was upholstered with leather. But now we can find Chester sofas with velvet, fabric or leatherette, and in different shades.
However, it is characterized by being robust and rigid, which is why many people find it a bit uncomfortable.
Sofa bed
It is a multifunction sofa designed to solve space problems. During the day it serves us to sit and bed at night. It is an ideal solution for houses that have a few square meters that lack an extra room. Or those that regularly receive guests.
In this case it is important to choose a sofa bed that fulfills both functions without exclusion. And that once installed does not obstruct doors and passageways.
Pallet indoor Sofas with storage
In confined spaces it is a task to maintain order and have storage space, and more so if you have children. Fortunately, there are sofas with a built-in storage space inside their seats or on the chaise longue. A solution where we can store blankets, pillows, toys, poufs in a practical and orderly way.
Ergonomic sofas
It corresponds to the sofas that have reclining backs and extendable seats to be able to adapt it to our liking depending on what we are doing at all times (watching TV, sleeping, chatting …). Some of them even have a massage system included. They work on both motorized and manual mechanisms
They allow us to enjoy more rest, help relax the muscles and facilitate blood circulation.
Make Pallet Indoor Sofas from Recycled Wood
Pallet Indoor Sofas are perfect for interior decoration, adding a fun and carefree touch to your rooms. And the sofas made with pallets are also ideal for outdoor decorations such as gardens, terraces and porches.
Unlike with ready made indoor sofas, create sofas made from pallets with cushions in a wide variety of colors. You will not believe all the decorative ideas that you can make. There is a wide variety of chaise, cushioned, individual, wheeled, pine wood sofas in pallet wood, and much more.
These types of pallet furniture come in various sizes and colors in blue, white, orange, red, dark grey, brown and yellow, green, and much more. There is also the possibility of combining the cushions with pallets in different colors. From the more natural finishes to black, and more daring colors.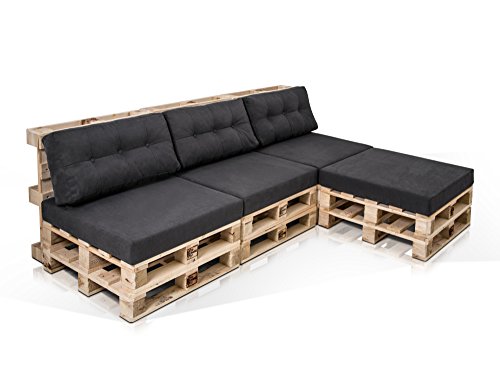 You can choose between different size of indoor pallet sofas to adapt it to any space. And select the type of cushion material so that withstands your conditions of use indoor or even outside. For instance a material that can be easily cleaned.
Wooden pallet sofas are products with affordable prices that are currently achieving great recognition. And not only for the carefree touch they bring to our home or business. But also for the recognition of artisan work and respect for environmental conservation and sustainable design.
The pallet armchairs and sofas are made from natural pine wood and recycled or reused wood. Buying sofas with wooden pallets is a very economical solution. Because they are highly resistant and can be easily customized. Pallet sofas are a trend, and they will look great in the living room. And in the office, next to the kitchen or even in a bedroom.
How to fashion an easy lounge pallet sofa
A good pallet lounge sofa can be exactly the same as a good corner sofa. You can make your pallet lounge sofa as big as you can handle. It's just about having enough pallets. For one module you need three pallets.
You need to just need  stacked and screw together the first two pallets. While you saw lengthwise the last pallet after the third board plus a board height. The cut pallet is the backrest of your lounge sofa, and you screw it between the fourth and fifth boards. So you get a backrest with a slope. We use brackets for a stronger result.
If it makes more sense on your patio, you can mount the backrest vertically on the back of the two pallets. Then you get more space to sit or lie on. And you do not have to saw. On the other hand, if you want to sit well, you do not have to worry about getting proper cushions for the backrest.
Types of Pallet Indoor Sofas Fabrics
Pallet indoor sofas in the high-end leatherette fabric  is easy to clean and very resistant. But it is recommended for indoor, and not outdoor use.
If you use it outdoors, it will inconvenience you to take care of and keep the materials away from unfavorable weather conditions.
But you can use the Nylon instead and maintain the visual characteristics of the synthetic leather.
Because it is a plastic tissue with similar texture to the canvas, suitable for outdoor, with vivid bright colors. It is also very easy to clean.
On the other hand nautical fabric maintains the visual characteristics of leatherette. But with three great advantages. Since it is a fire-retardant, antibacterial and anti-fungal fabric. It is a perfect upholstery for massive, sanitary facilities and different types of equipment. Suitable for pallet outdoor sofas.
And finally, the  Canvas, which is an acrylic fabric suitable for outdoor use with outstanding resistance to the sun and UVA rays. In addition, it is a fabric that repels stains. But it needs machine cleaning.
Decorative trends
Your pallet indoor sofas will become your favorite rest area and your visitors will always want to return to your home.
The room does not have to be very large. As long as you have a space where between the sofa is enough to create an intimate area if you do not have much space. Or make a complete indoor leisure area (design lamps, tables of pallets, cushions) if you are lucky enough to have larger living room.
But also pallet furniture is perfect to create a unique atmosphere inside your home and in covered outdoor areas. A solution that is fashionable all year round.
Pallet wood furniture decorate recycling
Following the conservation philosophy, these pallet indoor sofas are made of recycled wood. Or manufactured under responsible tree felling policies. You have to respect the environment.
As we say, eco-consciousness without giving up the best design. And, in addition, decorating with great creativity and originality. The possibility of accompanying our recycled wood with dozens of colors, finishes and accessories gives you endless possibilities.
A recycled and restored pallet is the ideal base to build a set of creative, different, comfortable furniture. And, at the same time, respect the environment. In addition, it is the latest trend in decoration. It is the perfect combination of contemporary design and material sustainability.
The combinations are almost endless with the wide range of products that we bring to you at Pallet Furniture Kenya. If you imagine it, it is possible.
We customize indoor &  outdoor pallet sofas
Pallet indoor sofas: are a type of furniture prepared for the interior of homes or businesses and to be placed on terraces. They are a pieces of great creativity, offering endless decorative possibilities.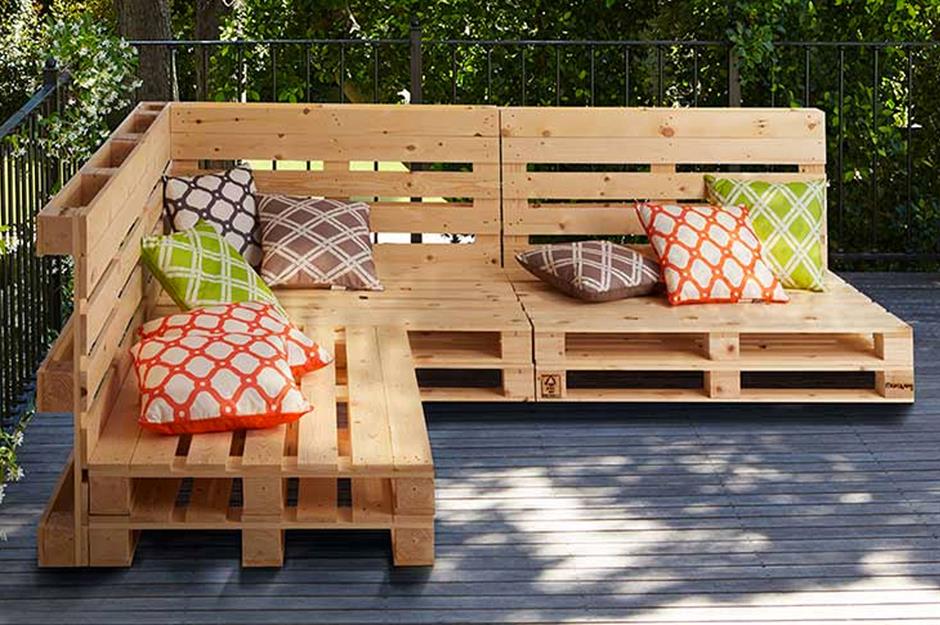 While Outdoor pallet sofas:  are specially created for outdoor spaces such as gardens. And therefore they have cushions and covers that are more resistant to inclement weather. They are the delight of lovers of summer outdoor decoration.
Industrial and vintage pallet sofas: are the perfect mix between recycled materials, where wood, as the base material, and iron are mixed with delicate decorative pieces. They take us back to old styles that today gain great strength with the new vintage decorative trends.
Trends and Ideas with pallet indoor sofas