Pallet garden chair, also called pallet patio chair or pallet outdoor chair, is any of type of pallet chair specifically designed for outdoor use. And these includes all pallet garden seating. Such as deck chairs, patio couch, lawn chairs, outdoor dining chairs, and pallet garden benches.
It is typically made of weather-resistant pallet wood and/or treated for water resistance.
The oldest surviving examples of garden furniture were found in the gardens of Pompeii.
A pallet garden furniture is often designed as a patio set consisting of a pallet table, four or six pallet chairs, and a parasol. A picnic table is used for the purpose of eating a meal outdoors. Long chairs, referred to as chaise longue, are also common items. Recently seating furniture has been used for conversation areas using items like couches.
The most commonly sold types of patio sets are made of plastic, wood, aluminum, wicker, and wrought iron.
Outdoor furniture exposure to elements of weather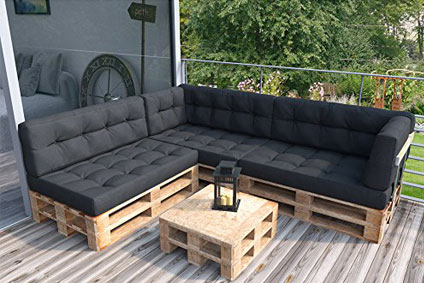 You know a wooden pallet garden chair can suffer through exposure to the elements. And therefore you need to periodically treat it.
But Teak is a commonly used pallet wood for outdoor garden chairs that you don't need to treat. Because it naturally contains silica, which makes it resistant to fungal decay. And also it is resistant to many of the effects of water (such as rot, swelling and warping). Do you know it is also resistant to fire, acid and alkalis? Yes, it is.
When teak pallet wood weathers, it loses its original look but gains a majestic, almost silver glow. You might prefer the aged look of teak.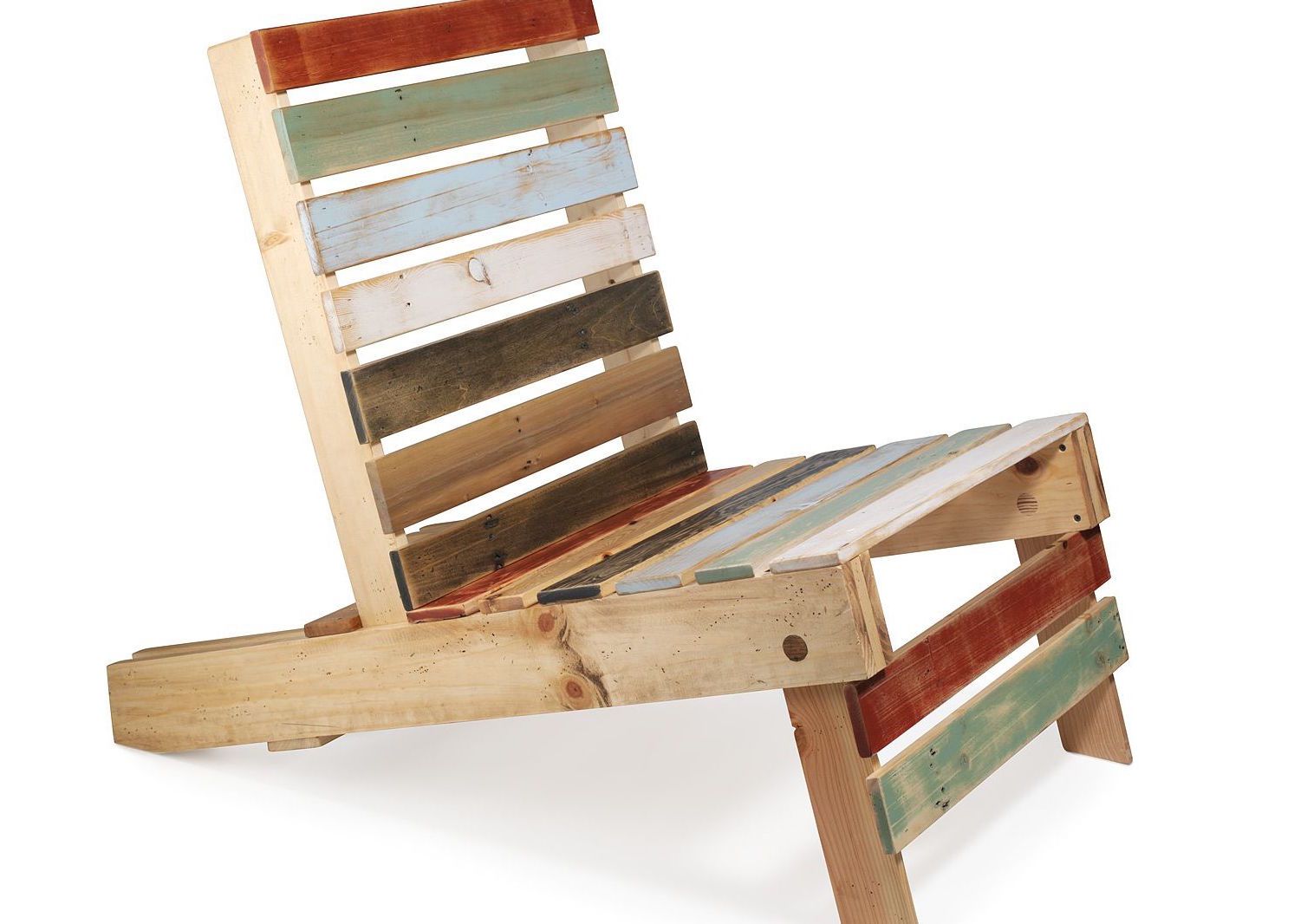 Aluminum garden chairs are robust and long-lasting. However, if the protective coating is compromised it will corrode.
Then, the only advantage I can see with plastic chairs is waterproof.  Plastic outdoor chairs are not that durable as they can easily fall apart. And as of beauty, compared to wooden pallet garden chairs which command elegance, plastic student chairs sit at the opposite side of the spectrum.
Cushions for outdoor pallet garden chairs
Protective treatment of wood pallet outdoor furniture
It is essential to treat the wood of the pallet garden chair and table before using them.
If the pallet wood is new, you will see the treatment information on the same pallet in the form of a code. And you can read the country code, the treatment supplier and the type of treatment that has been given to the pallet. Here are some example:
HT: Conventional heat treatment by steam or oven drying chamber
DH: Heat treatment by dielectric heating
MB: Treatment with methyl bromide
These are the treatments that are given to any new pallet. Now, if we are going to recycle an already used pallet, we subject it to an antifungal treatment. Because it is wood that it has been out in the open. And mistreated by humidity and dirt, (except for those pallets that you acquire new). Also it usually has some protruding nails, chips, etc.
It is for these reasons that the pallet wood must be treated again.
When to use protective vanish
Varnishes are the best known products when it comes to garden furniture pallet wood protection. In addition to highlighting it, they are resistant to impacts, heat, abrasion and water. 
In Kenya garden furniture is can be directly exposed to  sunlight for a long time. And therefore it is recommended to use products with  double "sunscreen". Protection against UV rays can even be  triple.
However, varnishes with a strong sunscreen tend to darken the pallet wood.
According to most manufacturers, for outdoor uses, the ideal is to apply three coats of varnish. This ensures better protection.
Be aware that, in some cases, this can be a condition for the validity of the varnish effectiveness guarantee certificate.
On the other hand, if the idea is to maintain the natural appearance of the wood, the best option may be the marine varnish. Because which offers good protection, does not change the color of the pallet wood and, in general, is more economical.
Another thing you should note is that for most varnishes to be effective, the wood needs to be dry. And that means  with less than 20% humidity.