The Pallet Double Bed has gradually become one of our best-selling products. I think it is a versatile, complete and an economical type of bed.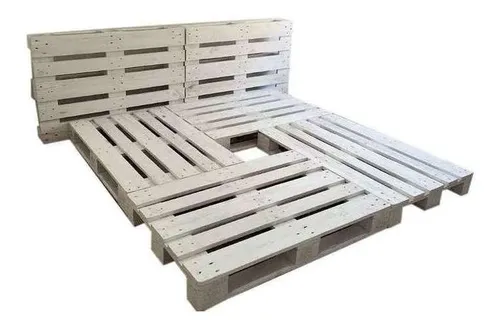 In addition to being especially practical in houses that do not have space to spare. If you are considering buying a double bed for your little ones but you can't decide, today we are going to try to convince you by listing some features and benefits.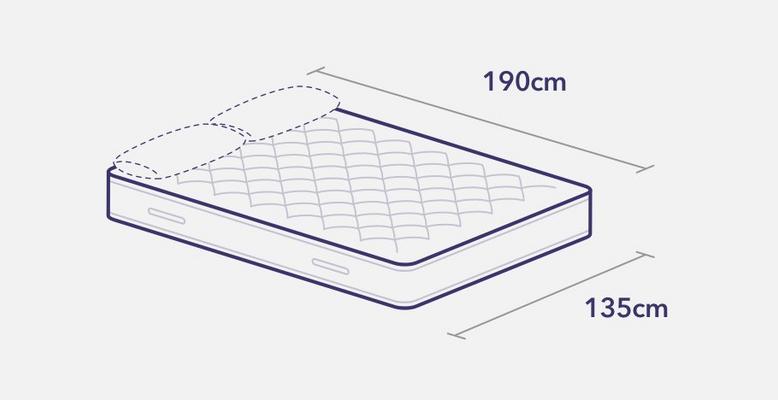 You should know that all our pallet double bed are custom made. Of extreme importance also know that there are two standard mattress sizes for a double bed. There is a small double bed and there is a big double bed.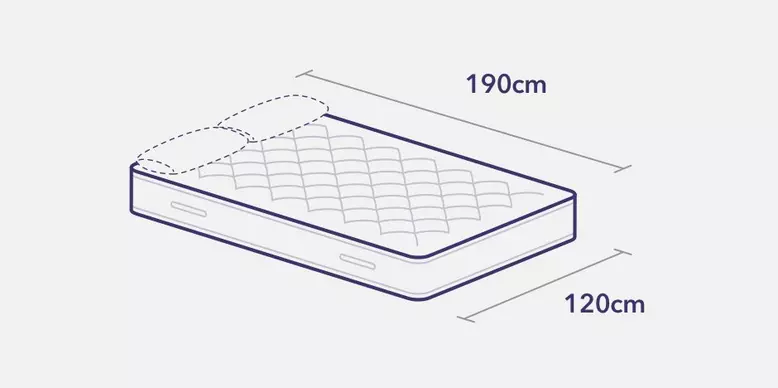 So which one will you go for between between the two, small or big double bed? If you sleep alone, and depending on your sleeping habits, it's okay if you go for the small double bed.
But if are like most of our customers, and you are think of sex, we recommend a big pallet double bed.
We know you were thinking it too…
Double beds conjure up an image of a happy couple sleeping romantically in each other's arms, isn't it?
The truth is that two people sleeping on a small double bed are hardly romantic.  You will be downright uncomfortable. Because a small double bed only allows you 60 cm of space per person. And that's just two rulers put together. While that's enough space for sex and some cuddles, 60 cm does not make for a spacious, comfortable sleep.
Rustic and Industrial Interior Decoration Pallet Furniture
A big recycled wood pallet bed is a way of decorating your bedroom with a country feel. To give your space a forward-thinking homey look, follow the advice of design professionals.
Naturalness, careless elegance and a natural environment, this is what characterizes the decoration of rustic interiors. The rustic style encompasses various styles and elements that we consider rustic and refer to rural life. Natural stone walls, vaulted ceilings and carved woods are some of the different ways to define rustic interior decoration.
The most intimate place in the house, the bedroom, is susceptible to intervention with a rustic decoration. Recycled wood from pallets is widely used for headboards and even for the manufacture of mattress bases.
The country – style interiors usually are created in spacious bedrooms, cottages, villas, etc. For the rustic interior design of the houses, wood and stone, large pallet double beds, and decorative details with natural finishes are used that remind us of old houses. At the same time, the rustic-style bedrooms are cozy and comfortable. It is the ideal place to relax from the hustle and bustle of everyday life.
Get a big pallet double be to prevent back pain
A big pallet double bed for a couple to sleep on has some health benefits. Did you know you spend about a third of your entire life in our bed sleeping? Let this rest always be restful enough.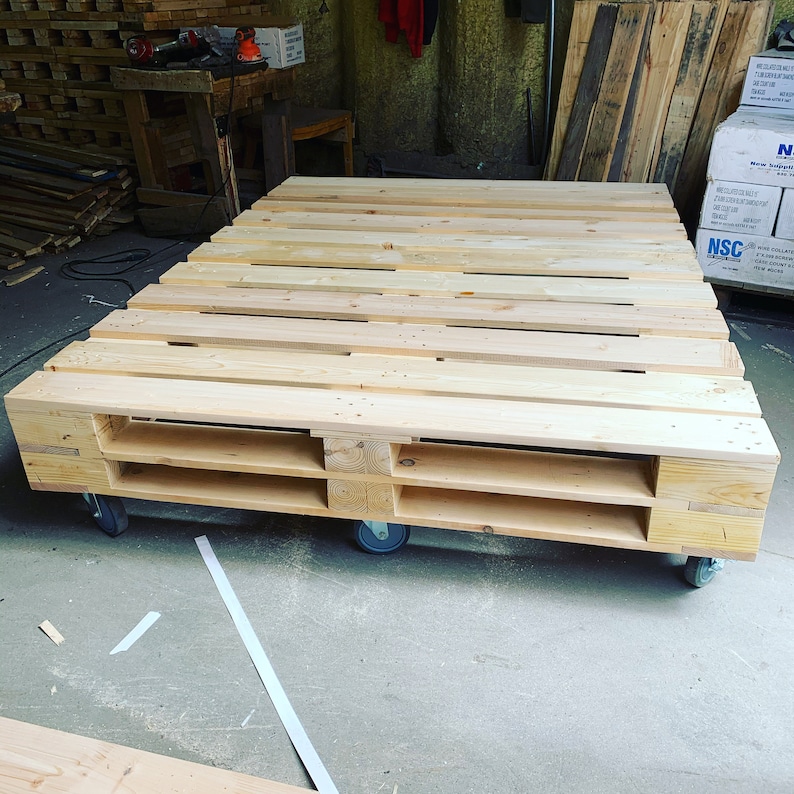 For some people, going to sleep has become uncomfortable due to neck and lower back pain upon waking. This problem occurs when, instead of relaxing the muscles of the back when sleeping, the opposite is done.  Accumulating tension.
However, it is important to bear in mind that, to sleep well, you have to invest in sleeping equipment.  And for that there is nothing better than a big double bed. And, of course, a mattress in good condition that takes care of your back and adapts to your rest.
 A big double bed allows you better sleeping posture
Only a big bed will allow you, as a couple, make sure that you are sleeping in a position that favors the correct alignment of the neck and back. Try not to sleep on your stomach, since it is a position that does not favor a straight spine.
And also try sleeping on your back or on your side, so your back will rest in a more neutral position. You can also help yourself with a pillow between your knees. And that is if you sleep on your side, or, if you sleep upright, place a pillow it under your knees.
The purpose of a pillow is to get the right sleeping posture for your body to rest as straight as possible. And this way you avoid possible neck and back pain. In the neck area there are muscles and ligaments that are tense throughout the day. And it is important that they relax at night so as not to suffer pain the next day.
All our pallet beds have the benefits of being custom made
One of the great advantages of of our wood pallet beds is that they are custom made. And therefore with them you can decorate your bedrooms in any style you like. You can choose each style to have a space saving bed shelves.
Or you may choose a pallet bed on castors.
Pallet beds are a common modern interior decoration trend. But looking down history, in 3400 BC, Egyptian Pharaohs discovered the comfort benefits of not sleeping on the floor. And at the same time created pallet beds raised off the ground. Commoners in Ancient Egypt, conversely, slept on piles of palm leaves.
Advantages and disadvantages of a double bed
There are more advantages of a pallet double bed than there are disadvantages:
The mattress and wooden pallet base are more expensive than a single bed.
Small size double beds are not spacious enough to give couples a comfortable sleep.
Can't fit the whole family.
More expensive to buy linen and bed covers as opposed to a single bed.
Benefits of a double bed
There are lots of benefits to a big size wood pallet double bed. And this is what makes it popular:
Because of its size, it fits well into most spaces. As opposed a queen size or a king size bed which be too big in many bedrooms. Especially the more modern apartments.
Because of their smaller size, double bed are more affordable than the larger queen or king size beds.
They are more common than most bed sizes, so easily available.
Linen is cheaper than the bigger size beds.
Ideal for single people and couple for the bigger double beds.
The double bed are also is ideal for two small children sharing a bed.
And ideal any one person.
Or for single elderly person who does not move around a lot.