The beauty of a pallet coffee table is that it integrates with all the styles present in your room. Be it ethnic, vintage, contemporary or even industrial charm.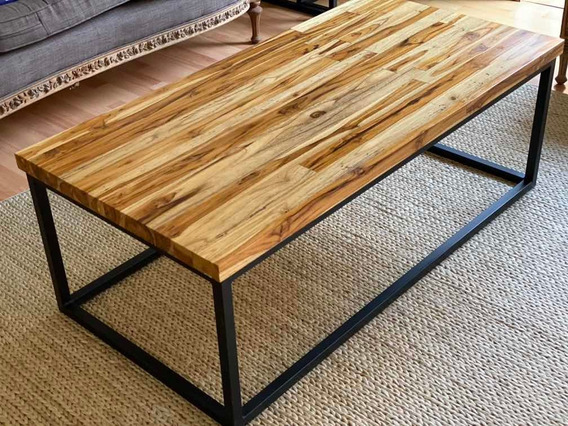 A  pallet coffee table is a long, low table which is designed, primarily with pallet wood, to be placed in front of (or next to) a sofa or chairs to support beverages, magazines, and other small items to be used while sitting.
Being custom made, or made to measure, a pallet coffee table will fill the space you give it combining practicality  with design. You will find a wide selection of pallet furniture coffee table sets, in all colors, designs and shapes.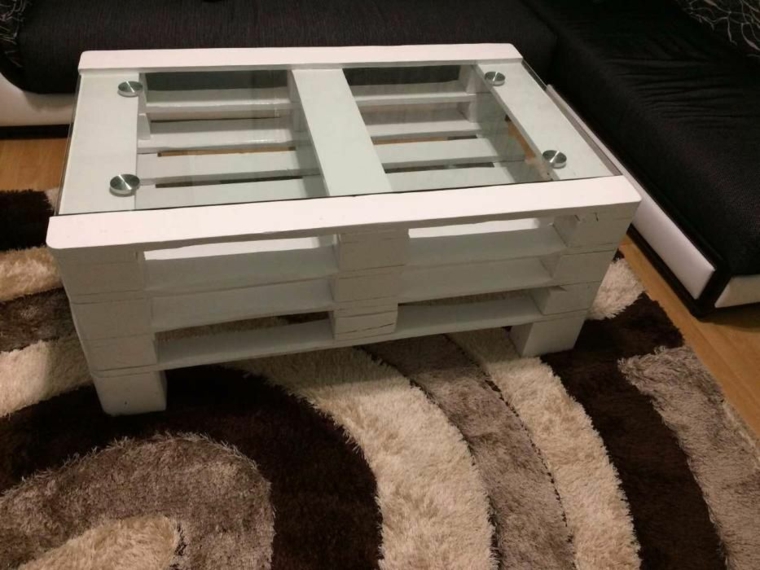 A well designed shape of a coffee table should be adjusted to the distribution of the host room.  This makes it easy to use from any seat. The most versatile is the rectangular coffee table. Both the round coffee table and the square coffee table will force you to expand the rest area. But they are very important if you do not have a big space.
There are seemingly endless designs of pallet coffee tables for every taste:
unique look coffee table

glass tabletop coffee table
round coffee table
industrial look coffee table
coffee table with storage
white coffee table
black coffee table

grey coffee table

square coffee table
small coffee tables

large coffee table

farmhouse coffee table
living room table
wood coffee table
rustic coffee table
oval coffee table

cheap coffee tables

marble top coffee table
Popular coffee table designs other than pallets
solid wood coffee table

oak coffee table
walnut coffee table

drum coffee table

teak coffee table
How to choose a coffee table
The coffee table is the real star in the living room, along with the sofa. Because the life of your living room revolves around the area that these furniture make up. Taking care of its design, how practical it must be to adjust to your needs as well as the correct measurements will facilitate the dynamism of the room.
Starting from the basis that you have already chosen the living room furniture and its distribution, you should take into account some tips:
Coffee table and sofa should be chosen together. Because both the table and the sofa need to coordinate. Especially if you have more than one sofa  or chair to create the seating area.
Give prominence to only one of them —If the sofa (or sofas) are very showy, choose a discreet coffee table and vice versa. With sofas with straight lines and neutral or black colors, you can opt for a table that attracts attention. The important thing is to avoid sharp contrasts.
The shape of the table should be adjusted to the distribution of the rest area —This makes it easy to use from any seat. The most versatile is the rectangular one. Both the round and the square will force you to expand the rest area, very important if you do not have a large space.
Measurements and dimensions of the coffee tables
Although they may vary according to your taste and the dimensions of your living room, keep these measurements in mind.
Pallet Coffee tables usually measure 120 x 80 centimeters and their standard height is 40-50 centimeters.  As a general rule, you should never exceed the height of the sofa. If you exceed that you will prevent the continuity of the line of sight of the television, a window, the door and, in addition, it will cease to be comfortable.
Between the coffee table and the sofas or seats you will need between 50 and 60 centimeters of distance so that the circulation is fluid.
Choose the size of the table according to the distribution of the seating area. There are three common distributions: 'U' shaped, 'L' shaped or parallel. A rectangular coffee table is suitable for all. Depending on the measurements of the sofas and the dimensions of the living room, you may have to buy a larger coffee table. Another solution is to put two square, twins, that cover more space.
If the space between the seating areas is very large, forgo round or square ones. For small sofas they are more practical but the greater their diameter, the more meters you will have to dedicate to the rest area.
Mix construction materials with pallet wood
We make pallet coffee tables with a mixture of all kinds of industrial materials to achieve different effects. From wooden tables, to pallet tables with metal frames, to pallet tables with glass table tops. Or pallet wood and wrought iron and glass, wood and glass or forging and wood, or a combination of any two or more material.
In addition to those with similar characteristics, although different sizes or materials of this type of furniture, you will also find innovative designs, almost sculptural or pieces that, although they are not tables, do that function, such as trunks, suitcases, poufs and stools Or, for example, a converted wooden pallet.
In pallet wood furniture, time has taught us that imagination and creativity do a wonderful job. The purpose for what you will use the coffee table, or the intended functions, dictates the design and the material we use.
Coffee table functions
The coffee table, although there are slight differences in its origin, has a multipurpose function. And the functions for which you intend to use the table, plus the layout and the dimensions of the living space, determines the design.
Here are of the functions you may want your pallet or otherwise coffee table to take:
Mark the center in the rest and gathering area.
It is used to have snacks, a table drink or coffee or tea in a social gathering in an area that encourages conversation.
The television is often in front of you, so it probably gets a lot of use.
If you have small children, because of its low height, they will use it as a desk and game table.
It will serve to highlight a piece in which you have interest, books, vases with flowers  or boxes. Some have a display drawer whose contents can be seen through the glass of the envelope. It is the ideal place for one of your collections.
You can choose multipurpose tables, that have storage space or that are lift able for a game.
What makes pallet furniture unique
The recycled pallet bring our coffee table a personality that made coffee tables with new wood will never have. And they are truly unique since no two are exactly alike. Its the imperfections, irregularities and knots in the pallet wood that make each coffee table a unique piece.
If you like natural wood and you are one of those who understand the grain, knots and irregularities as something natural to value, the pallet coffee tables we make the recycled wood will not leave you indifferent.
Industrial style coffee table

It is the mixture of the rustic pallet wood, wrought iron, and castors_ a mixture of the organic and the engineered form that the coffee table achieves the aesthetic balance between functionality, warmth and beauty.
Because if recycled wood coffee tables have something, it is that they are designed to be enjoyed without fear of spoiling. Perfect for houses with children.
Square, rectangular or round, perfect to incorporate into your living room and make your home a warm and welcoming space full of personality.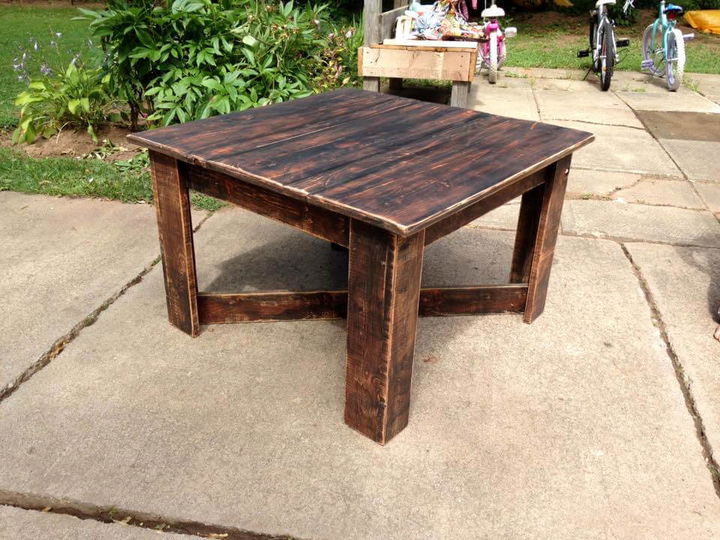 In our catalog you will find them with an all wood structure. Solid, robust and with a certain rustic style or air. But you will also find tables that combine the recycled wood top with industrial-style metal structures, And these in addition to providing contrast to the table, give it lightness.
They are tables that you can combine with furniture of different finishes. They look great with furniture painted in white or grey colors. But you can also combine them with more contemporary furniture or even with straight lines as a contrasting piece.
We invite you to discover the recycled wood tables that we have prepared for you.