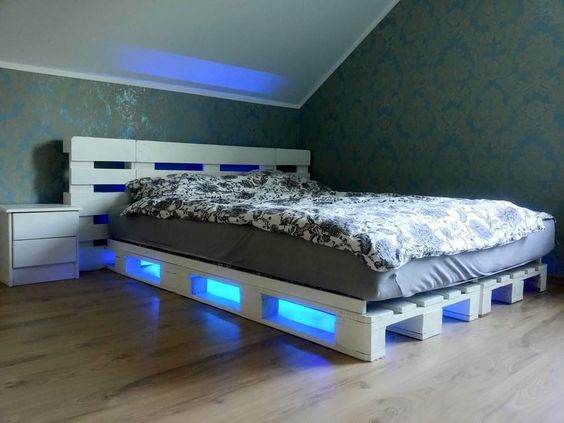 A pallet bed with lights has the ability to change the mood of a room just as it does the perceived size of a room. Our pallet bed recced lighting designs allows you to integrate light into the architecture of the bed. And in this way you generate moods, create unique atmospheres and add emotion to spaces, adapting them to the needs of the people who live there.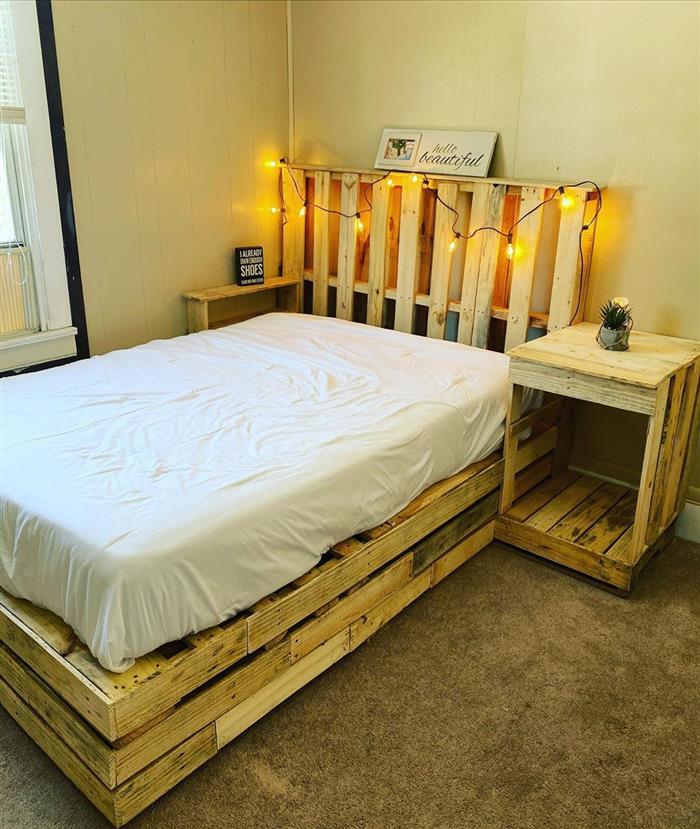 And of course you have no better way to highlight the floating effect of a floating pallet bed with with recessed lighting. Ambient lighting is not only amazing in terms creating atmosphere and making bedroom look beautiful. But it can also be quite practical, and is perfect for those night bathroom trips.
Lately we have received many request to put lights on different headboards made of pallet to give a more original and welcoming touch to the bedroom.
Who does not like it? Of course, the atmosphere of a bedroom changes a lot with just a strip of LED lights that are so fashionable now in the headboard. For that reason and to inspire you, we have selected several ideas that we have loved to decorate your headboard with a little bit of light.
Suitable bedroom lights
It is important to choose the right colors for your pallet bed lighting. Because light colors has different décor and mood effects. For instance a soft purple blue color light has a calming effect on the body and will not hinder your sleep as a yellow light might. Also avoid neon pinks and blues to promote your sleep rather than ruin it.
All you need is some LED strip of a color of choice. But again we recommend blue or purple and an inconspicuous neat way to fix it under your bed without preventing the light coming from under it.
The best thing about this is that you won't need a glaring night lamp that hurts your eyes in darkness. You can leave it on and still sleep without problems.
Pallet Bed Frame with Hidden Lighting Underneath
With hidden illuminating LED light, a bed frame looks like it is floating in the air. Lighting hidden under the bed has both functional and aesthetic features, adding a dramatic touch to the bedroom.
We built a beautiful pallet bed frames with lights underneath to improve your sleeping experience.
While some people are satisfied with its ambient appearance, others are trolling it for using as a bed for children who are scared of monsters coming out from underneath.
It is a great inspiration for people who love beds with built-in lighting.