Materials for pallet bed frame
Not just any pallet wood is good for a pallet bed frame.  But is true that pallet beds have  become a very common sight in Kenyan bedrooms.
In recent times, we have seen the popularity of the use of pallet beds has increased.  And they are even used as centerpieces or in the garden. However, you may be wondering what exactly a good pallet bed frame is made of.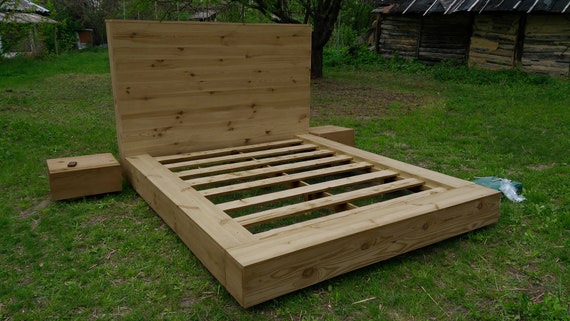 A wooden pallet is a structure in which piled products, in shipping, are easily moved by lifting with the help of hoisting gear. And it is this material that is used the most, due to its resistance, reliability and price. It is also this material that is recycled and now in fashion in making pallet bed frames.
The advantages of this type of material are:
Wooden pallet make industrial style beds
Lately, wooden pallet bed frames have caught everyone's eye. Friends of open spaces, wood provides the necessary warmth to spaces with a marked industrial character, to achieve a cozy and intimate atmosphere.
A wooden pallet bed frame is enough to transform your bedroom with these characteristics. Simple but robust, they have great decorative power when you combined with simple bedding that reveals the ins and outs of the structure. Let nothing steal the spotlight!

You can find these bed frames in the market. But you can also contract us to build a custom made one for you. The advantage of a custom made one is that you can choose wooden to add legs, headboards or drawers, depending on your needs.
In addition to helping the planet reuse wood, you are giving your room a different and creative touch. You can build a rustic bed with the color of the wood in sight. Or you can paint it for a more feminine and romantic result, such as choosing a white color.
If you are a man, you might like the idea of ​​painting it in a dark color. But why not see the pictures to see the different ideas?
Pallet beds pictures
Pay attention to bed frame dimensions: Different bed sizes
When selecting your bed frame, pallet or otherwise, check that it is wide enough to ensure the comfort of the people who will use it. Check that you can lye down on it and you can turn without problems, and that there is space above the head and below the feet. This is so important that it is recommended, for some people, that even one person sleep in a double bed alone.
The pallet bed frame can have many measures. Sizes are not limited to Single, Double and King Size. Its dimensions should be considered when deciding which is the best option for the bedroom. In addition, the mattress, blankets and sheets depend on their size, both width and length, as well as thickness.
In any case, make sure there is mattress space both above the head and below the feet (at least an inch). Because you should be able to roll back and forth across the bed with enough room across the width so that you don't end up on the floor carelessly.
Single bed frames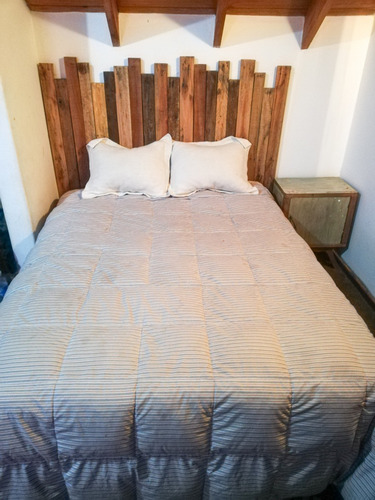 80 cm bed
They are the classic old single. And they are great for children's bedrooms. But when your children reach a adolescence you have to change to a 90 cm bed frame. Because the adolescents suddenly see their feet hanging or resting on the footboard and they can damage their back, apart from not resting.
90 cm bed
They are the modern singles, if it is a complete bed with headboard and footboard, or only headboard, you have to take into account that it will be a few cm more when measuring the available space.
The double bed
The most common sizes for double beds are: 140 cm × 190 cm (55 in × 75 in) 160 cm × 200 cm (63 in × 79 in). It's also a great choice for slightly larger kids' rooms if you have just one child and you want to make sure that he or she has a bit more sleeping surface to rely on. They are a very popular choice.
Queen bed
This is likely to be one of the most commonly used size by the majority of the customers. It measures 60 x 84 inches, and it sleeps two people normally. Now, you would be rather close to your partner, and the mattress needs to be splendid.
Queen beds are beds for comfortably sleeping two people and have become the most popular bed size for couples. With extra width and length added compared to Full-size beds, Queen beds provide more support for taller people and couples that feel a little cramped in a Full-size bed. In the UK, Queen beds are instead referred to as King beds.
King bed
180 or 200 centimeters wide by 180, 190 or 200 long.
This classification seems simple enough. However, in certain cases, other sizes or other names can make the search difficult: single, one and a half square beds, "Twin", "Full", "Queen Size", "Super King".  Much more if they are governed by measurements based on the Anglo-Saxon metric system. The important thing, then, is to take the lengths of the beds, without getting carried away by names. And based on those measurements, decide which one is convenient for the bedroom in question.