Whereas you have a wide choice of outdoor pallet table designs, it is prudent you think about its protection. And you know how to protect any wooden outdoor pallet furniture against exposure to the Kenyan summer sun's rays as well as from rain.
But I also hasten to say that pallet woods are perfect for outdoor environments. Because they give the terraces a rustic and and cozy warm air. You can take advantage of the wooden pallet outdoor table to give an aged tint and achieve an even more country feeling.
Although, if you opt for woods without "effects", you will also have to take into account a series of references to know what type of pallet wood will adapt better to inclement weather.
You must also consider what you are going to use your outdoor pallet table for. Because even if you protect it from the sun's rays and rain by an umbrella or shade, you still might get food and drinks spillage.
Although you are at an advantage for engaging us, which we thank you, it is good you know that we don't just use any wood for outdoor pallet tables. Some wood are more suitable or durable for outdoor furniture than others.
When we select pallets for outdoor or garden table we refer to those that are naturally suitable for being outdoors. And we keep in mind how humidity, fungi, insects and sun might affect the furniture. And therefore we select pallets with additional benefits, such as resistance to blows, humidity and / or insects.
Cedar wood pallets are our most favorite for outdoor tables. Because it is a relatively light and it is abundant. What gives cedar wood the ability to be used outdoors and be resistant to moisture and insects is its resin.
Why choose outdoor table made out of pallet
Whether indoor or out door there is a different type of table – pallet tables that will give your living space a special style. Let us table, for example, a coffee table. Here are the 3 reasons why you should choose a pallet coffee table:
1. We can easily custom make it for you. Instead of buying just any ready made coffee table, you can easily pallet coffee table of any size, color and style. An outdoor pallet table of this type can also be made using pallets that cost less than than ready made, making it very affordable.
The pallets can also be used for the construction of auxiliary tables. And with different paint colors to serve as a visual division between sections of your lawn or room.
2. In addition to saving money, don't forget that this table will have a unique style. And it will be a source of pride and satisfaction to you and to your visitors.
3. Pallet tables are very versatile. Although the name of the table we want to create is a wooden outdoor pallet table, it can also be used for a variety of other purposes.
For example, it is the perfect option for your living room if you have a low sofa.
3. Outdoor Pallet Tables Are Very Durable. Do not be mistaken to assume that since pallet wood is cheaper, it would not be durable. This is not so. If you compare it to other materials such as plastic, you will find that a pallet table is more durable and requires little maintenance.
Pallets are very versatile and durable
Pallets are very versatile in indoor and outdoor table manufacturing. In this case a table being any item of furniture with a flat top, used as a surface for working at, eating from or on which to place things.
As to the strength of wooden pallets, they have been around for decades as part of the packaging for shipping and storing large, heavy items. However lately, wooden pallets have become a useful resource in home décor and design.
Some common types of pallet table are the dining table, which is used for seated persons to eat meals. Another is the coffee table, which is a low table used to display items or serve refreshments. And the bedside table, which is used to place an alarm clock and a lamp among other things.
There are also a range of specialized types of outdoor tables. Among them are drafting tables, used for doing architectural drawings, and sewing tables.
Common design elements of pallet tables include:
You can choose to have table top surfaces of various shapes. Including rectangular, square, rounded, semi-circular or oval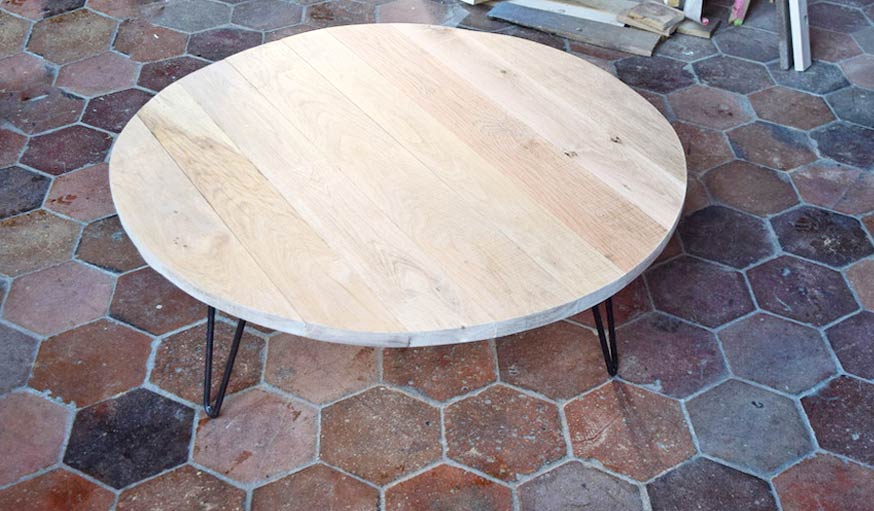 Or traditional table legs arranged in two or more similar pairs. It usually has four legs. However, with custom made pallet tables, you may choose to have three legs, using a single heavy pedestal, or all attached to a wall.
Always go for custom made heights ranging up and down from the most common 18–30 inches (46–76 cm) range. Your choice should be informed by the height of chairs or bar stools used as seating for people making use of a table.
Plus custom sizes are possible, from small bedside tables to large dining tables and huge conference room tables.
Also choose to have the presence or absence of drawers, shelves or other areas for space saving and storing items.
Dining table with recycled pallets
Create an original outdoor dining table from four wooden pallets. With its simple and rustic appearance the pallet table is functional for both indoor and outdoor use. Plus the table can be customized to the size you require.
And its design too may be exactly as you desire. Choose to finish it with oil, wax, or a polyurethane varnish for durability and strength out in the open.