Double deck beds, double decker's, bunk beds, or two story beds all refer to the same thing. Simply put, get two beds and stack them on top of one another and you've got yourself a bunk bed.
It is extremely important that the bed has a ladder. And climbing the ladder on the upper level of the bed – is fun for the child.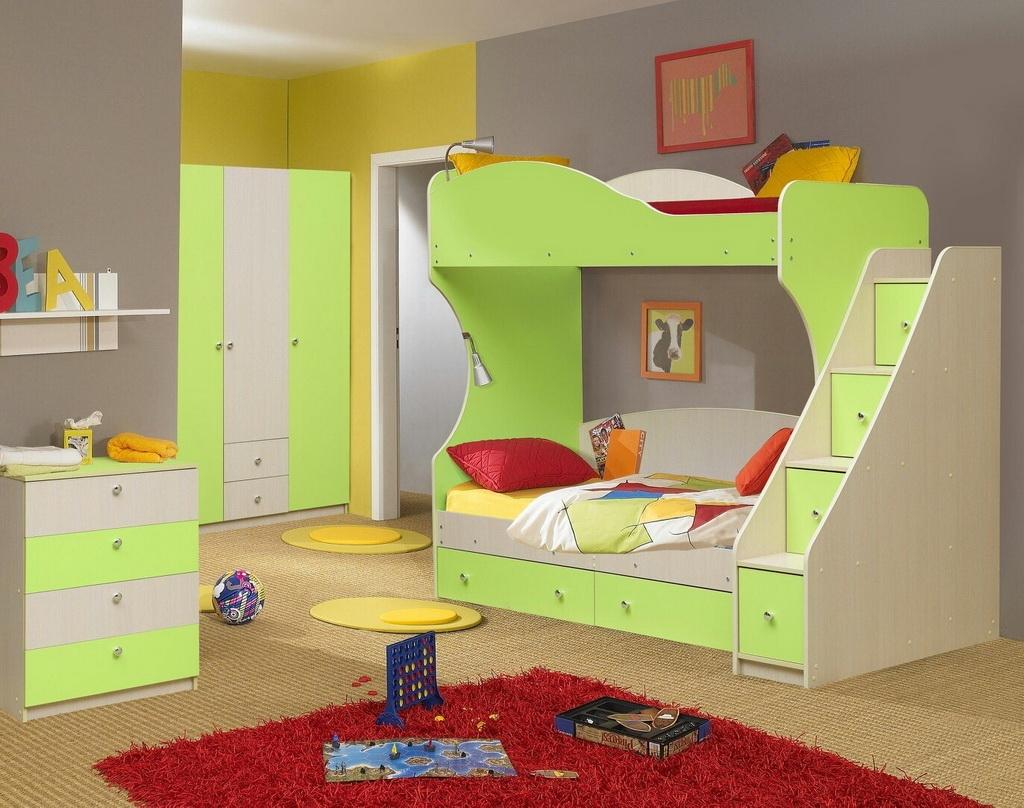 Nursery school, Preschoolers and teenagers love beds of this format. These makes their bed rooms special and opens up new possibilities for games.
You are, of course, interested in how to choose a double deck bed for your children. So as not to regret the purchase after the first injury. Or because you are worried whether this furniture is comfortable and how soon you will have it changed.
But your fear of injury is absolutely in vain. A competently selected bunk bed at the right age will only bring joy to your children. The best age for bunk bed usage is 6 years old. The American Academy of Pediatrics recommends that children under the age of 6 do not use the top bunk of a bunk bed due to safety concerns.
However, there is limited guidance available about what's the best age for using the bottom bunk bed.
Pros and cons of double decker beds
A double deck bed in the nursery does not only save the much needed space. Because the nursery is a place to learn, dream, grow and play. The little ones, while adapting to their environment, tend to turn their room into their little refuge. A place where they can have fun, play with their friends or watch television. But still feel safe and protected.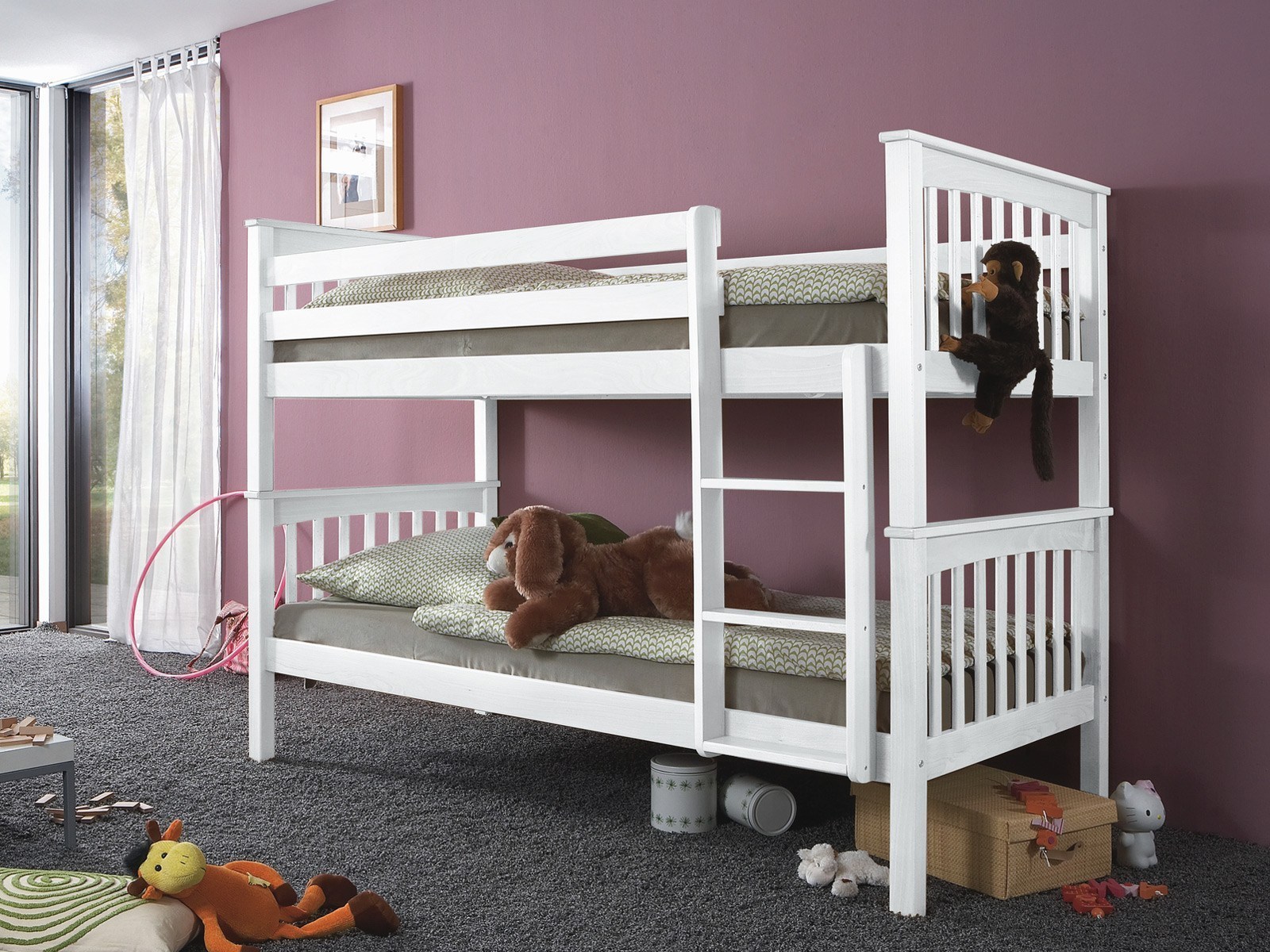 Therefore your children's room should be cozy, functional and safe at the same time. And an Ordinary single beds is not designed to solve such a complex interior design task. The sofa beds do not meet all the requirements either. The way out is to have a double decker bed for the children.
How to save space in children's bed rooms
One of the first places a family children can outgrow their space is in bedrooms. Adding onto a family, having friends stay while visiting, or opening a home to loved ones easily makes the number of rooms too few.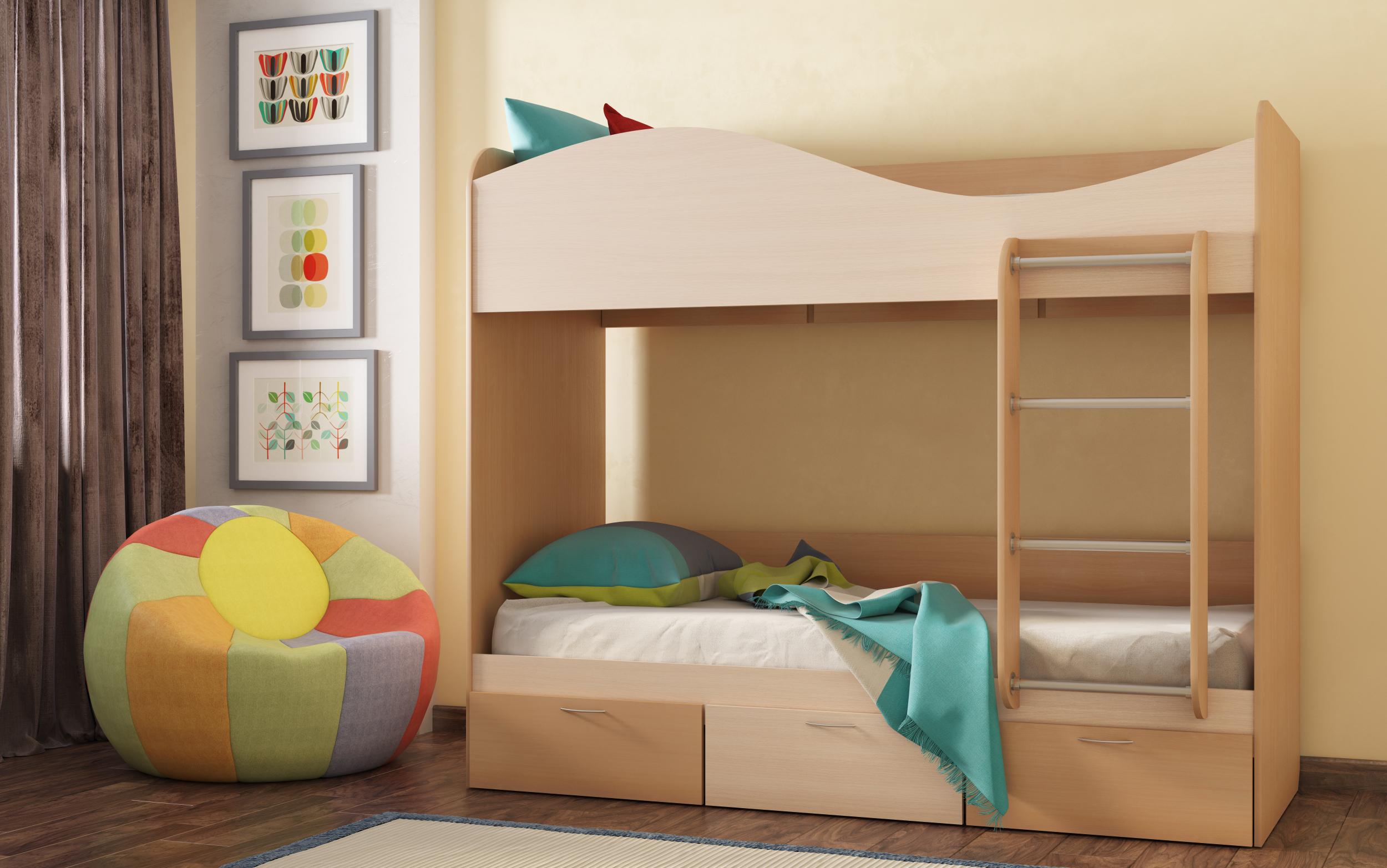 If guests sleep on couches or too many kids share one room, you may lack the number of bedrooms you need.
The double deck beds solve this problem of by saving space in children's bedrooms. And it is increasingly common, especially in cities, that homes have the necessary area to live.  Which complicates the task quite a bit. And if you also add how to distribute it in a rest, play and study area, it becomes a true quantum physics equation.
Tips to save space
It may seem like an impossible mission to distribute the small space of your children's bedrooms. But there are several ways you can multiply the space in an incredible way.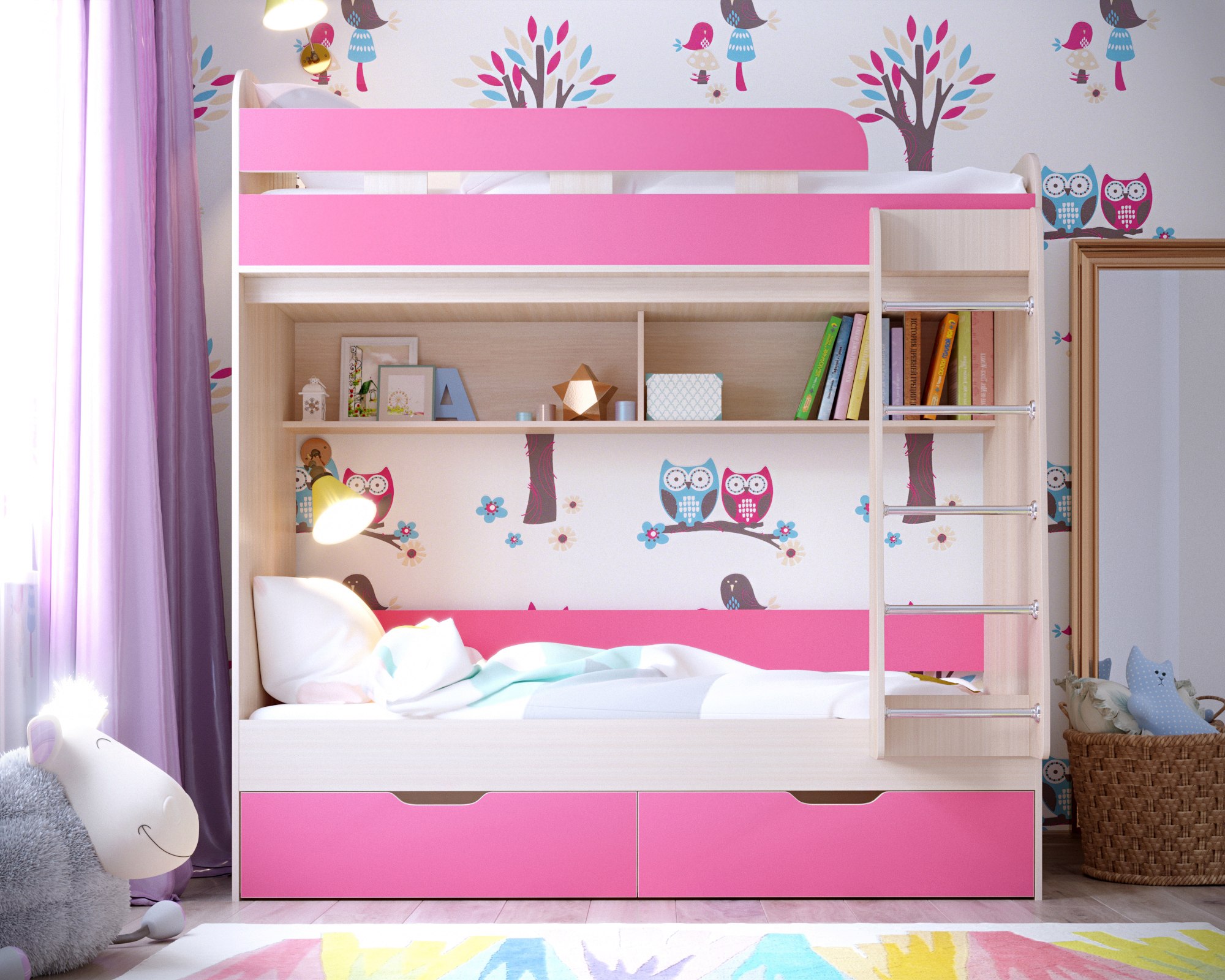 The first thing you have to be clear about is the number of children's beds you need to have in the room. The bed is the essential piece in any child's bedroom. But it is also what takes up the most space.
Measurements should be made of where you will place the bunk bed. And take account of the location of the windows and door. Because the space available will determine what type of bunk you can place where.
In addition to looking at the space horizontally, you have to measure vertically. From the top bed to the ceiling there should be not less than 60 centimeters. And, between beds, it is necessary to you leave about 75 centimeters to avoid blows.
Safety with children's bedrooms bunk beds
Having a double deck beds, or bunk beds, is a fun and exciting event for a children. However, this furniture can pose certain dangers. Take care most especially for children who are not yet old enough to use it properly.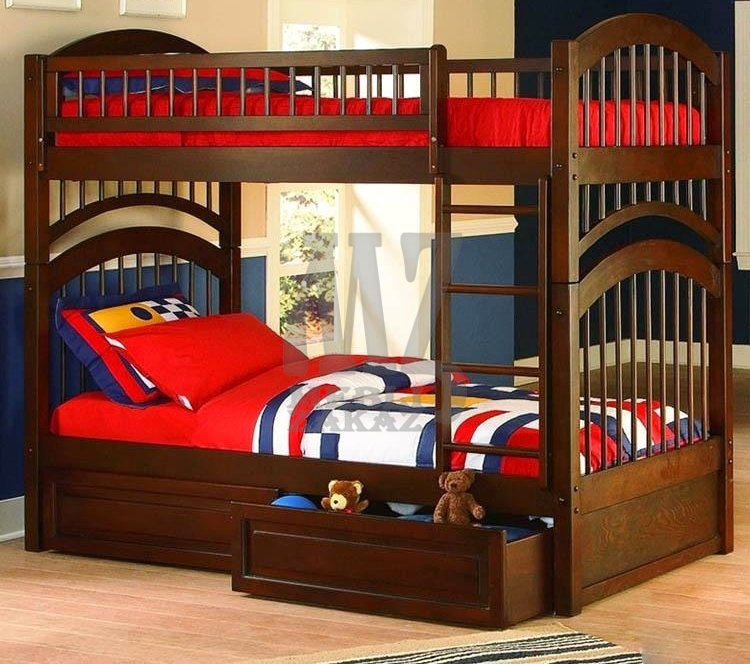 I think it is essential that you take the necessary safety measures. And you establish some rules that allow you to keep your children safe with this type of furniture.
Also remember that children under 6 years old should not sleep in the upper bed. Because they do not have the necessary coordination to climb carefully or to avoid falling.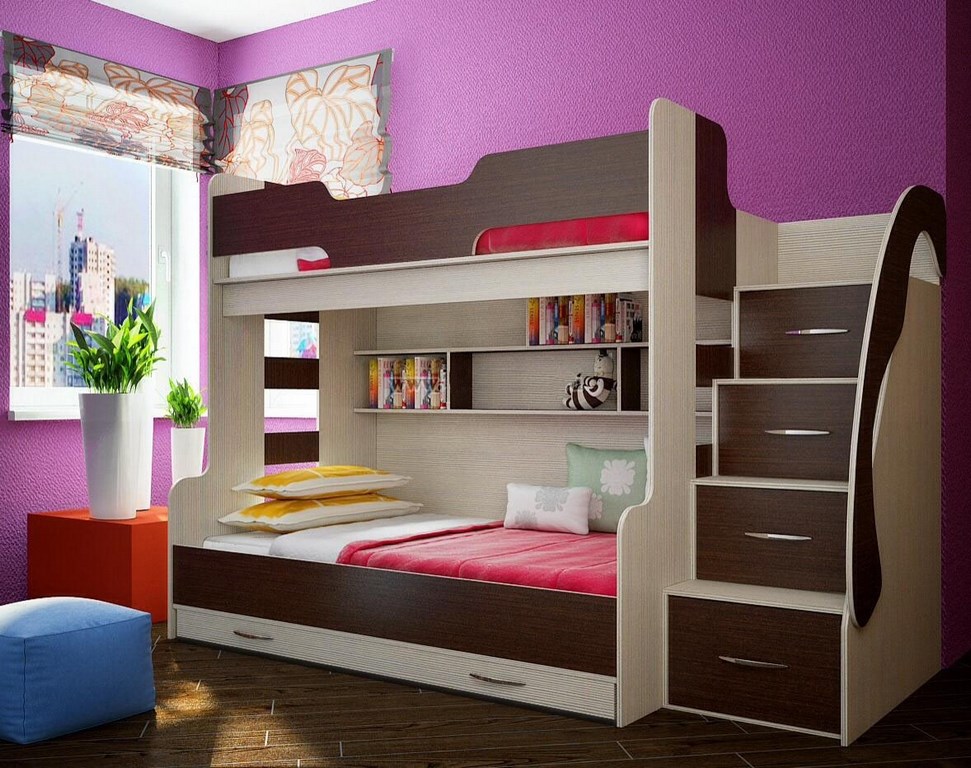 It is always good you install the bunk in a corner. So that the two walls that will be next to it provide support. And this way you also eliminates two of the four sides by which a child could fall out of bed.
Also make sure that the upper deck has guardrail to ensure safety. And especially if small children sleep on it. All four sides must be covered by a wall or railing.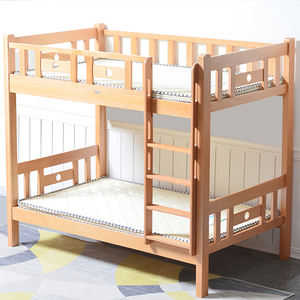 Also, make sure the top bed has a railing. And ensure that the space between the railing and the edge of the bed is not greater than 8.8 centimeters. So that your child cannot get out under this rail when the mattress sags with the weight of his or her body.
Check that the top mattress is snugly against the bed frame. So that it cannot come out over the edge. Also, inspect that it is held in place by slats or wire that hold it in place at both ends; consider that if not, it could fall on the bed below.
And finally make sure the the has sufficient night light that allows your child to see the staircase at all times.
Safety ladders for young children's bunk beds
It is important you look closely at the ladder of each bunk bed design to assess whether it is safe enough. And for the younger children it is better you choose bunk beds with wide steps.
There are some ladders that sit off the side of the bunk. And have drawers under each step, which can be helpful as it increases storage space. In all cases, the ladder must be completely attached to the structure to avoid falls.
And why not choose a bunk bed that provides extra storage space? Either with drawers under the lower bed or under the ladder steps.
It is essential that you prohibit children from jumping or playing on the double decker beds. This is to prevent the little children from falling and the structure of the beds from weakening.
Always go for a bunk bed with a ladder. But if you have one whose designs does not have one, put a ladder to go up to the upper bed.
Children's Low bunk beds
When you are little you like to have things close to your size. And a low bunk, like the is a pleasant element for children and parents. The child who sleeps upstairs feels very safe, he is like in another dimension.
The child sleeping on the lower deck feels like in a little house, picked up and welcomed. For parents, when the children are small that height gives tranquility, the bed is made easily because it is at your height. And it is very comfortable to tuck the child or accompany him for a while, resulting in a very natural height.