A wooden computer pallet desk is versatile, aesthetic, low cost and sustainable.
And these are the biggest advantages you accrue if you choose a computer pallet desk or table to compose the decoration of the home or office.
In addition, furniture made of pallet wood is much cheaper and personalized than other ready made furniture. The options when creating your table can be varied, using glass tops, wheels, maintaining the tone of the pallet itself or adding a touch of color.
And when you contract us to make your furniture you rest assured that the pallet wood is well sanitized, especially when it is used to make a desk or table. And this is both for you as well as for us handling the wood. Before we start construction we clean the material with a solution containing water, liquid detergent and bleach and rub all over the surface with a sponge, leaving it disinfected.
Before starting to assemble your furniture, we remove possible wood chips, nails, screws, and sand the spaces. So that you get a smooth surface. And finally we varnish the wood to keep your computer desk more protected. But we can also paint it a color of your choice if you like.
Custom made computer pallet desks features
More important than the aesthetics of your computer pallet desk or  table and chair is the support of your sitting posture.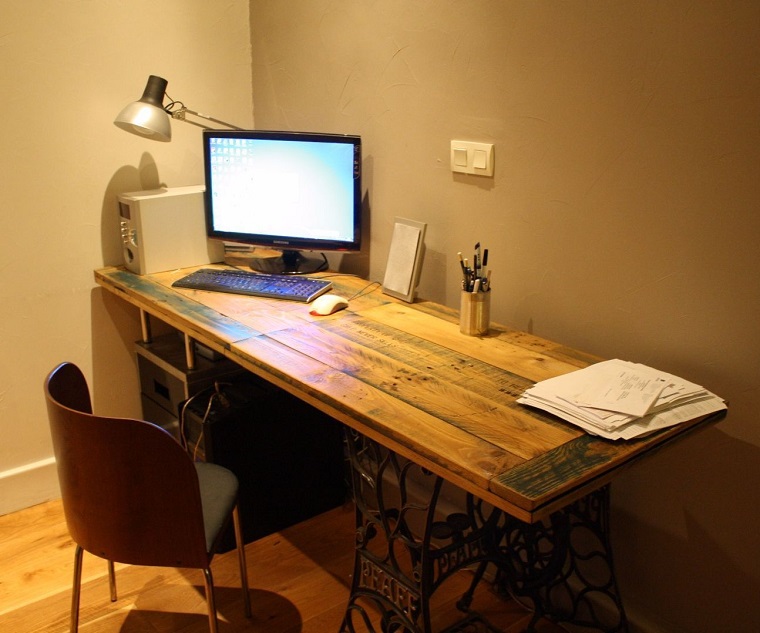 And this means you should sit in such a manner so as to:
Lower the gauges on the neck, shoulder, arm, and wrist.

Enable a good siting posture for good for blood circulation.
Allows you to have a more natural way of operation.

Suitable for right angle desk with thickness less than 6cm.
Sit at the computer pallet desk and maintain good posture
If your job involves sitting in front of a computer for many hours, know how to sit properly to help prevent the development of back pain.
The introduction of computers in office jobs has meant that workers have been sitting at the desk for more than 6 hours a day, for 5 days a week. Because of this, neck, back and knee pains have become increasingly common in office workers over the years. Aches and pains can occur. Because sitting for many hours reduces the natural curvature of the spine. And this can cause you pain and discomfort in the lower back, neck and shoulders.
The right siting posture
To avoid these pains, it is essential that you follow the following tips:
Do not cross your legs. You must have both feet flat on the floor to give good support to your entire body and improve blood circulation;
The height of the chair must be equal to the distance between the knees and the floor;
You should support your arms on the arms of the chair or on the table where you have the computer;
Position your shoulders slightly back so that your spine remains in a natural position;
The top of your monitor should be at eye level. If necessary, place a book under the monitor in order to raise it. Ideally you do not have to look up or down, in order to keep your neck in a comfortable position;
The computer screen must also be at an appropriate distance from your eyes. And the recommendation is that it is at least 50 cm away;
Using a chair with support for your back can also help maintain good posture. However, no matter how good the chair is, by itself it is not the solution to end all physical pain. To get good results you should always try to follow the posture tips.
Exercise in your free time
Good sitting posture and the use of the right chair and pallet computer desk suitable for work are excellent measures you should take to promote your well-being. But they are not enough to reduce the burden on bones, muscles and joints. Staying active in your spare time is essential.
It is not necessary to resort to high intensity exercises, we recommend that you bet on exercises aimed at postural alignment. For example, Pilates is a good option, as are stretching, walking and other low-intensity exercises.
Computer Seats and tables
To have the perfect complement to the computer pallet desk, the seat should be compatible to the desk.  It can be made in the same way, a seat or bench, so you can put a cushion on top, to make it more comfortable, and store under the desk so that it does not take up space.
First of all, the pallet is a very handy object. It is very easy to work with and customize. And don't forget that the recovery of old pallets responds to current environmental concerns. By reusing pallets you participate in the process of their recycling. Thus, you are doing good to nature! And finally, pallets are a very strong and durable material.
Another great advantage of these wooden pallet desks and chairs is their durability: both their seats and withstand the passage of time very well.
The second great advantage is its price. Because you can choose a simpler structure, without folding, adjustable or padded elements, for they are less expensive at the time of manufacture. And this saving is also transferred to the sale price.
Other characteristics and advantages
There are other characteristics of these wooden computer desks and chairs that are valued positively by users. The first is that their design and the nature of the wood usually combines very well with the all interior decoration styles.
No less important, when it comes to paying attention to your computer work is that this type of chair favors the adoption of a fixed and continuous posture, without movements. This, on the other hand, is more difficult when the chair is swivel or has wheels.
And finally, another advantage of the chairs is that they fit very well under the computer desk or table. On the other hand, when the chair has armrests, this is much more difficult. Not unless the table is especially high and does not have a drawer or keyboard support.