If you are looking to buy wooden pallet furniture, hold your horses. I will tell you here shortly why it is better you customize it. Instead of buying ready made ones.
With wooden pallets we can inexpensively, and very fast make any one of thousands of furniture item designs for you. If you are looking to create your own furniture based on pallets, today, we will show you how to do it. As a well as give you a wide variety of wooden pallet furniture ideas to decorate your home with.
Furniture made of pallet wood has been the top favorite of the recycling movement for years in Kenya now. And recycled pallets are leading the way in creating healthy, non-toxic furniture, sustainable homes throughout Nairobi, and Kenya in General.
Professional ethics in pallet furniture construction
Our professional association, Association of Designers in Kenya demands that homes be designed with materials that are healthy for the environment and the families.
We stands strongly in support of this effort and are dedicated to offering the latest green furniture design. Whether it is a sofa bed, shelf wall, coffee table, room divider, divan or wine rack – furniture made of pallet wood is now a top favorite of green conscious furniture product designers and interior designers.
Decorate your house or office with wooden pallet furniture Pallet wood furniture to combine the charm of natural materials with a timeless industrial design. Thanks to the standardized dimensions, Euro pallets can be taken apart and reassembled according to the modular principle. This makes processing into stylish furnishings and home accessories particularly easy. And in a matter of a couple of days you can collect your custom made piece.
Rustic style pallet furniture
If you are looking for rustic style, know that is why more and more people go for pallet wood furniture. And if you want to harmonize your indoor, terrace and garden furniture, pallets are ideal for both indoor and outdoor.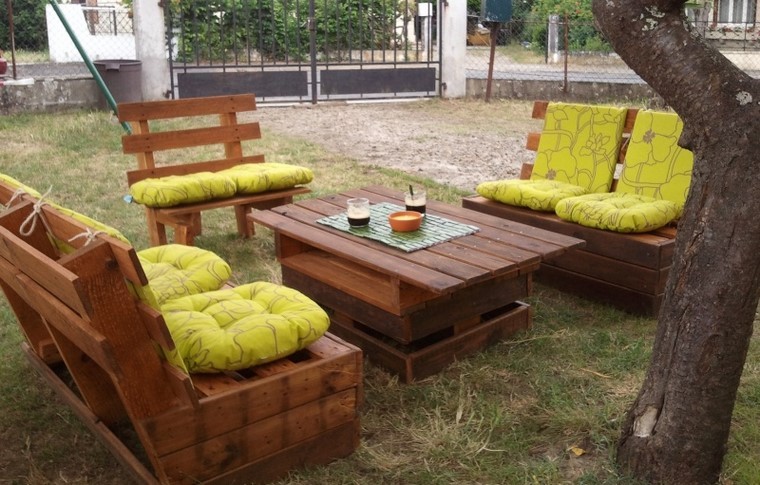 In any case it gives that rustic touch that is so warm and pleasant. We offer a series of advantages that will encourage you decorate with wooden pallets. For us, it is lucky to be able to work with this versatile type of wood. And, for you, it is sure to be lucky to also to decorate with custom pallet furniture. Because from custom furniture you will get such a vintage and original result.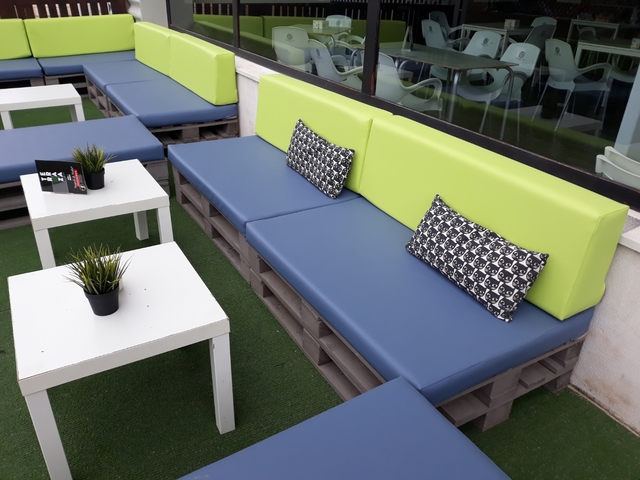 Today many of the pallets are manufactured with recycled wood. And also, on many occasions, the wood itself that is used for pallet furniture is a wood that we give a second life to. So that when you use it for your furniture new trees do not have to be cut to make the furniture. And that way you prolong the life of pallet wood and save the environment.
The cost of pallet furniture is relatively cheaper
You will find that buying furniture made with pallets is cheaper than buying other types of furniture. In addition, we also adapt to any measure, space or idea that you have. It is a 100 manufacturing % customizable.
Furthermore working with pallet wood allows you to create furniture made with very durable pallets. Because it is a strong wood, which we also treat to reinforce its durability and to perfect its insulation.
We don't just pick any pallet wood. What you will get for your furniture is solid wood such as walnut, teak, oak or maple. And our pallet wood furniture is typically held together by basic wood joinery techniques. This ensures a stronger bond requires less adhesives. You should avoid excessive adhesives which are the main culprits in harmful VOC emissions.
Know which type of pallet to use for furniture construction
Avoid furniture composed of MDF or particleboard, which is made from compressed shavings or sawdust held together by synthetic resins, binders and glues.
One of the ingredients often found in these adhesives is formaldehyde, which can cause wheezing, nausea, and severe allergic reactions and is known to cause cancer in animals.
But what is even more important is that with pallet furniture you will get more personality. We give it a very personal finish and design. From a very fashionable vintage style in recent times, to a rustic finish. You have a great choice of diverse finishes and designs for these furniture.
In other words, wood pallet furniture adapt to you. Because we adapt to you and the space where the furniture goes. To achieve that we manufacture custom with high quality pallets. As well as with the interior and exterior finishes you want, in color and details that you like the most
What furniture can you build with pallets?
Let's be a look at the different possibilities of pallet furniture. First of all, you have numerous practical and effective pieces for the garden. The kids love a great swing and their own sandpit.
Emphasizing the rustic beauty of pallet furniture wood grains
The word "grain" means something like stain or mark in medieval English and is still known to us in a modified form:
Nowadays, when someone speaks of a grain, we know that he means the pattern of wood. And thus the external image that results from the different stripes, dots and color nuances on a wooden surface.
The fact that such patterns develop is partly due to the chemical components of wood and partly to how the tree from which it came grew. Pallet Wood grains are unique, similar to human fingerprints. Growth rings, wood rays, traces of knots, adhesions and discoloration form an interplay that is different in each piece of pallet wood. Basically, however, there are significant differences in the intensity wood grain from pallet wood species to another.
We whish to let you know that we are members of ADKe. And that is the Association of Designers of Kenya. The Association of Designers of Kenya is a registered professional body under provisions of the Societies Act, Chapter 108 of the Laws of Kenya to advance professional practice and promote standards of Interior Design and Graphic Design professions in Kenya.
Disadvantages of unprofessional carpentry
ADKe develops and promote the highest standards of professional competence and practice amongst members.
Unprofessional carpenters and even you can manufacture home-made furniture from pallets without too much problems. That is thanks to the pallets, stable, prefabricated elements already available that you may only have to shorten with a saw. The construction of pallet furniture enables even inexperienced craftsmen an easy entry into furniture construction.
Avoid untreated pallets for furniture making
What your lay carpenter might not know it that it is important that you use untreated pallets for furniture construction. Euro pallets, as used in logistics, can be contaminated with pollutants and are therefore not suitable for furniture construction. With the use of Furniture Pallet Kenya you are definitely on the safe side for your sofa.
Doing things on your own, or engaging professional carpenters instead of designers always sounds like a good idea. You will save money, you tell yourself, and get the satisfaction of accomplishment. But the truth is that you often end up spending more money and time. Cheap is sometimes expensive. It is better you engage a professional and with us you will end up not only saving time and money, but also getting better aesthetics and durability.
Different kinds of pallets for different kinds of furniture
You need to know there are different pallets for different uses. For example, rough-sawn furniture pallets that are not chemically treated to protect against pests and weathering are particularly suitable as building materials for beds and other furniture for indoor use. It is better you use untreated wood indoor furniture.
If you want to use the same pallets for pallet furniture outdoors, you must first treat them with weatherproof paint.